Image
National Arbor Day is celebrated on the last Friday in April. However, here in Florida, the 1945 State Legislature designated the third Friday in January as Florida Arbor Day.
Arbor Day is a holiday dedicated to planting trees and helping them grow. People are encouraged to plant trees. Businesses and government programs may arrange communal plantings. Arbor Day in the U.S. was first proposed by Sterling Morton in Nebraska in 1872. It became a nationwide holiday in the U.S. in 1970 and is currently observed in many countries around the world.
Image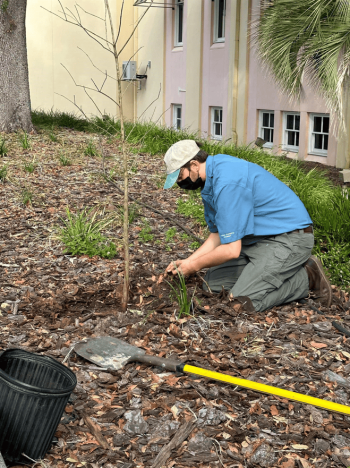 The Headquarters Library hosted representatives from the City of Gainesville Urban Forestry Division and Keep Alachua County Beautiful for a Proper Tree Planting program (photo, right) on Sunday, Dec. 4, 2022. Attendees were able to take home free trees following the presentation and demonstration on tree planting techniques.
Keep Alachua County Beautiful will be hosting a program on Invasive Plants at the Headquarters Library on Sunday, Feb. 19 at 1 p.m. in Meeting Room B.
Trees are valuable in many ways. Here are a few reasons why:
Trees are natural filters of air and groundwater. They remove carbon dioxide and pollutants from the environment; roadside trees reduce nearby indoor air pollution by more than 50%.
Trees can help reduce cooling and heating bills. Properly placed trees help conserve energy by shading and cooling buildings in the summer and blocking cold winter winds. Shaded surfaces may be 20–45°F cooler than the peak temperatures of unshaded materials.
In addition to their practical value, trees have aesthetic value. They add various colors, shapes, textures, and patterns to the landscape. Properly placed trees have a welcoming effect, provide privacy and act as ceilings for outdoor areas. 
Trees increase our property values. In Fulton County (Atlanta), Georgia, mature trees positively influenced home sale prices. Homes sold for nearly $105,000 more in neighborhoods with mature trees.
Trees provide habitats for wildlife — birds, mammals and reptiles.
Hairy leaf surfaces of trees trap and filter out ash, dust and pollen particles carried in the air. 
Trees contribute to our health. A study of 10 cities found community forests save an average of one life each year. In New York City, trees save an average of eight lives every year.
Learn more about trees and why they are so important from these books in our library's collection.
Descriptions adapted from the publishers.