Image

April is Arab American Heritage Month. As a community, we celebrate those with Arab American heritage and reflect on the contributions of Arab Americans to our country. By reading a chapter book about the joys, struggles, and daily lives of Arab Americans, we can provide adults and children with windows into lives and cultures different than their own and also mirrors of near and dear traditions and struggles to those who do not typically see themselves represented. 
 Choose a book from this wonderful list to read and enjoy this month. Both print and eBooks are available to enjoy no matter your age. 
Image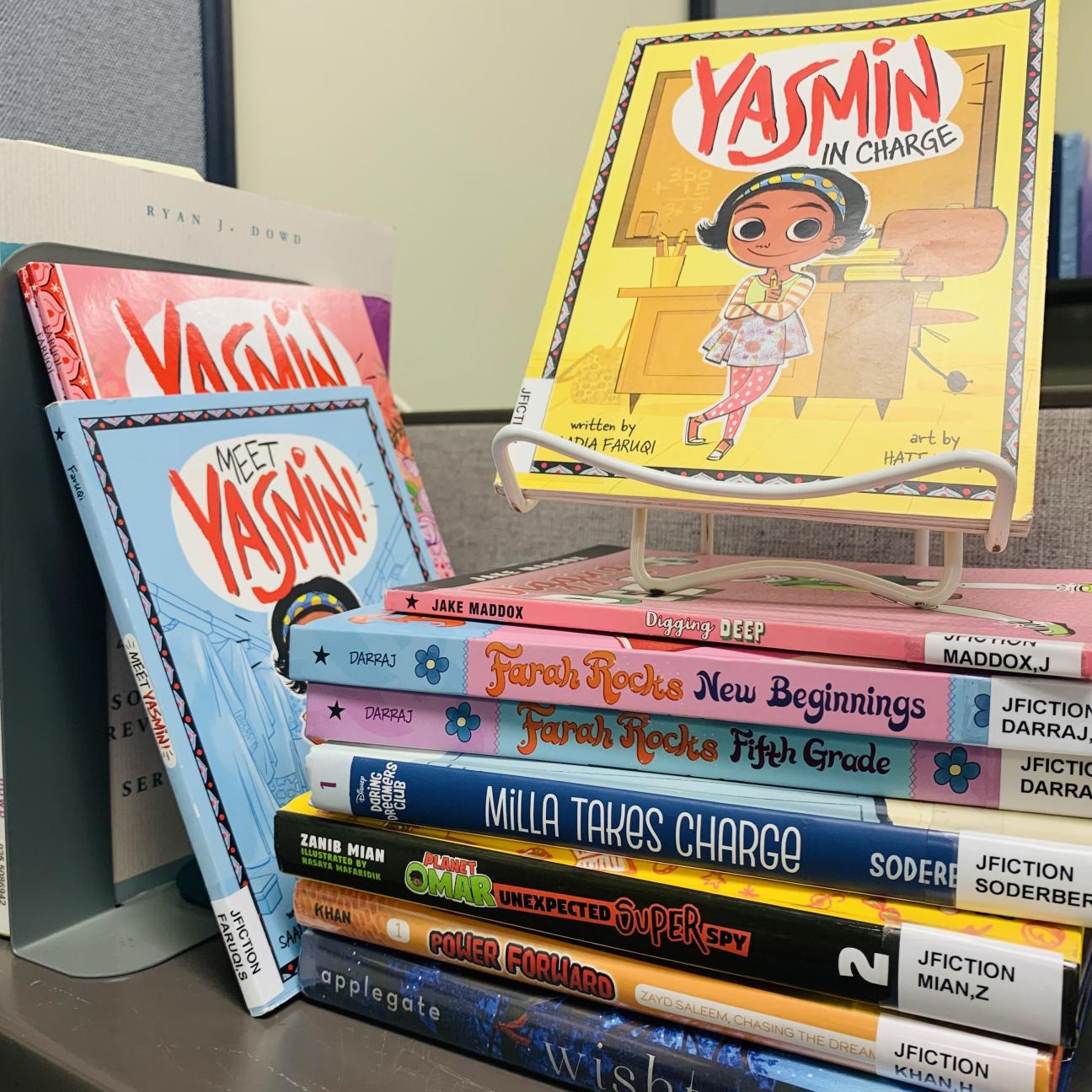 Upper Elementary 
Image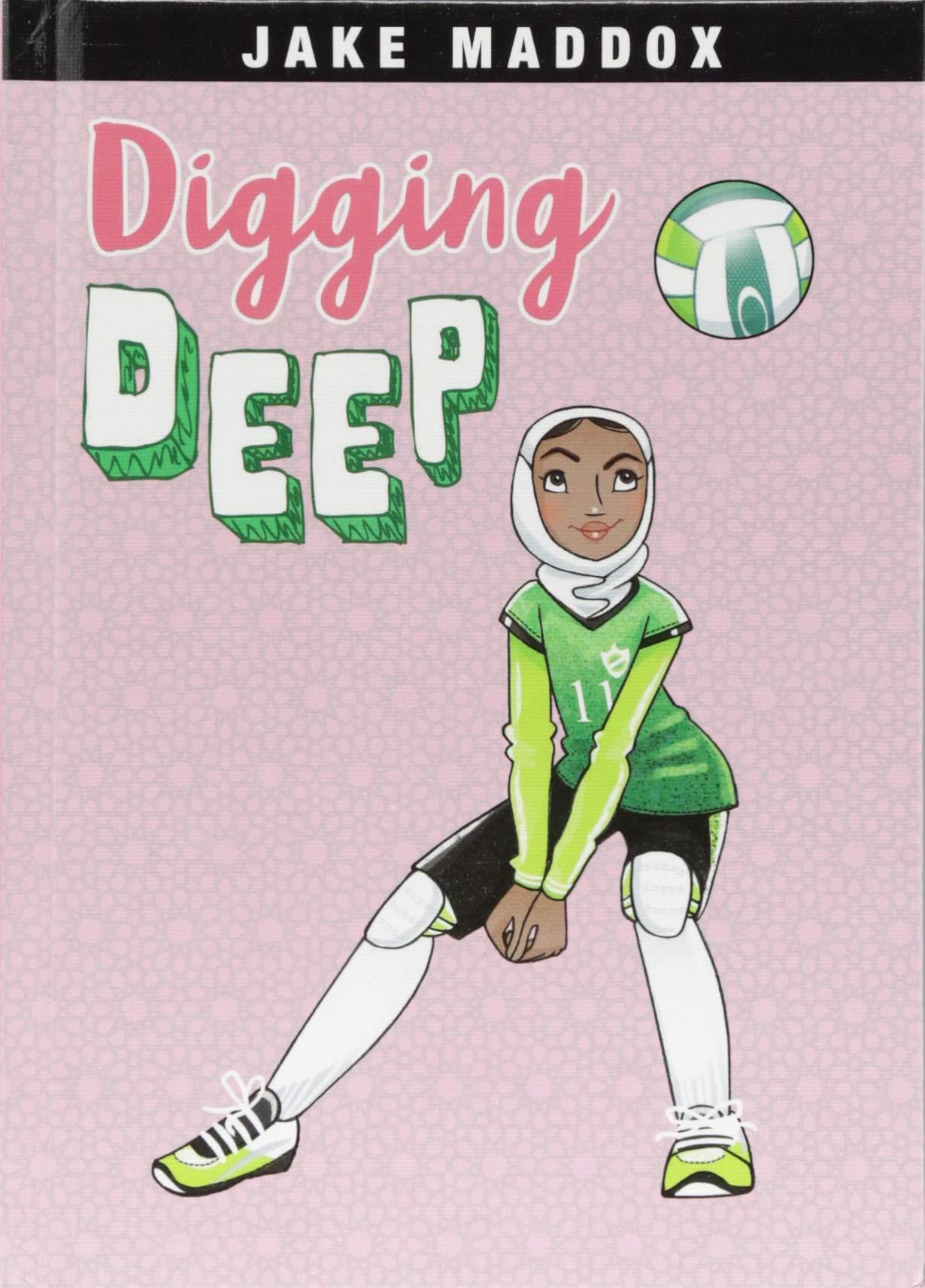 Digging Deep by Jake Maddox
(2019)
Asiyah Najjar is upping her volleyball game and joining the travel team. But the practices are longer, harder, and more frequent than her old rec squad's. Now easy-going Asiyah is having a tough time focusing up and making the commitment. Can she dig deep and jump to the next level of play? With a glossary, writing prompts, discussion questions, and extra volleyball info, this fast-paced Jake Maddox sports story is a win-win for both educators and students! - (Capstone Press)
Image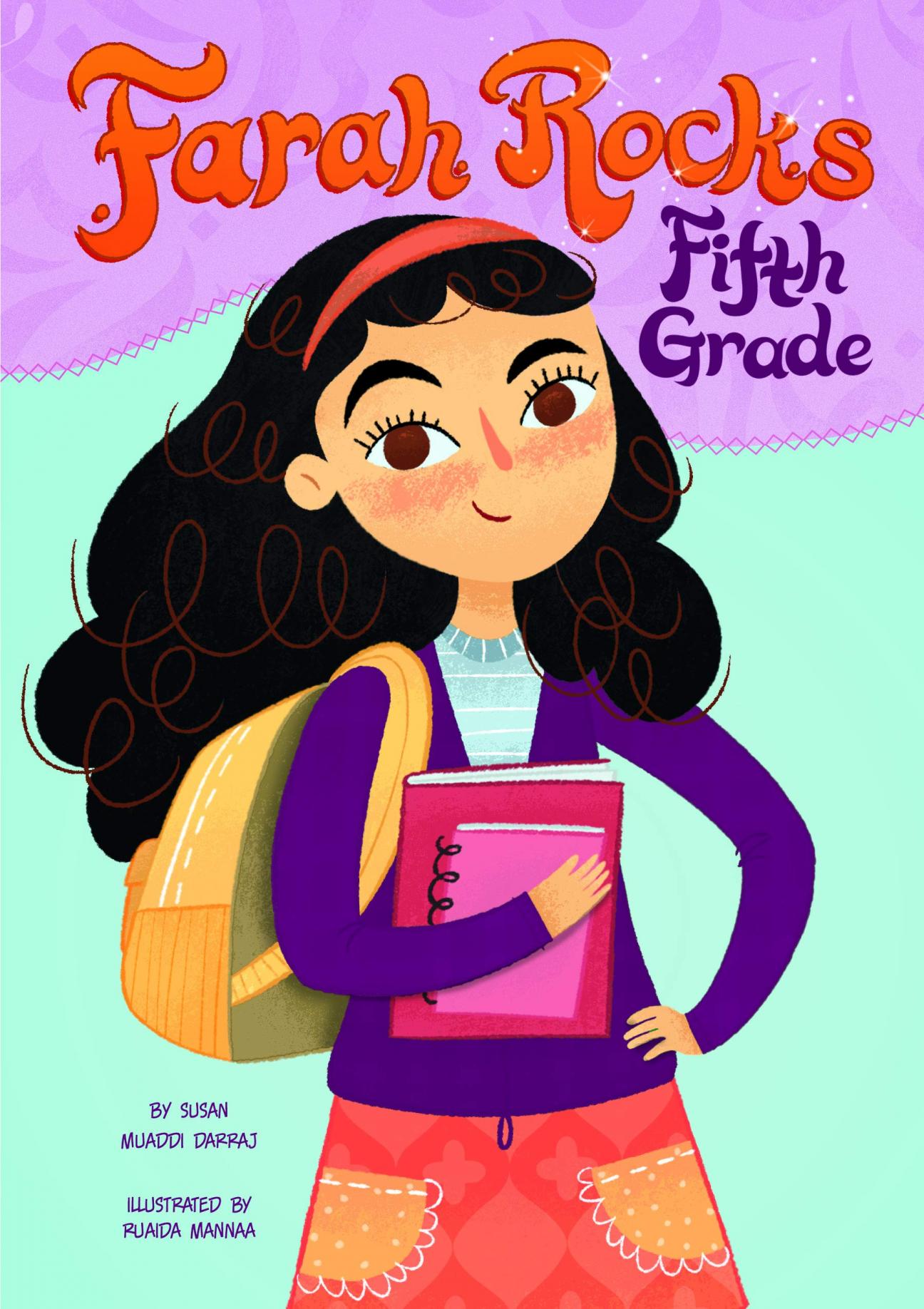 Farrah Rocks: Fifth Grade by Susan Muaddi Darraj (2020)
The only thing Farah wants more than acceptance into the prestigious Magnet Academy is to protect her little brother, Samir, who has lingering developmental delays from his premature birth. When a new school bully threatens Samir's safety, Farah decides to sabotage her own report card, ensuring her rejection from Magnet so that she can remain at the same school as Samir. In her children's book debut, Darraj introduces a sympathetic Arab American protagonist who will help fill a glaring hole in representation. Farah's parents are, incidentally, immigrants—Christians, from an unspecified Middle Eastern territory—and their dialogue is peppered with Arabic phrases that are clear in context and defined in a glossary. While the bullying story line presents a much gentler experience than the real world might offer, this work is more concerned with modeling good behavior than depicting brutal harassment. A useful window for early chapter book readers and a precious mirror for Arab American kids. Grades 2-4. Copyright 2020 Booklist Reviews.
Image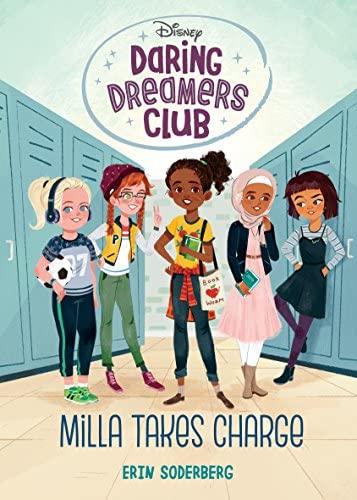 Milla Takes Charge: Disney Daring Dreamers Club by Erin Soderberg (2018)
When you follow your dreams, the possibilities are endless!
Milla loves nothing more than imagining grand adventures in the great wide somewhere, just like Belle. She dreams of traveling the world and writing about her incredible discoveries. Unfortunately, there is nothing pretend about the fifth-grade overnight and Milla's fear that her moms won't let her go.Enter Piper, Mariana, Zahra, and Ruby. Together with Milla, they form the Daring Dreamers Club and become best friends. But can they help Milla believe she's ready for this real grand adventure?Diverse, talented, and smart--these five girls found each other because they all had one thing in common: big dreams. Touching on everyday dramas and the ups and downs of friendship, this series will enchant all readers who are princesses at heart.
Image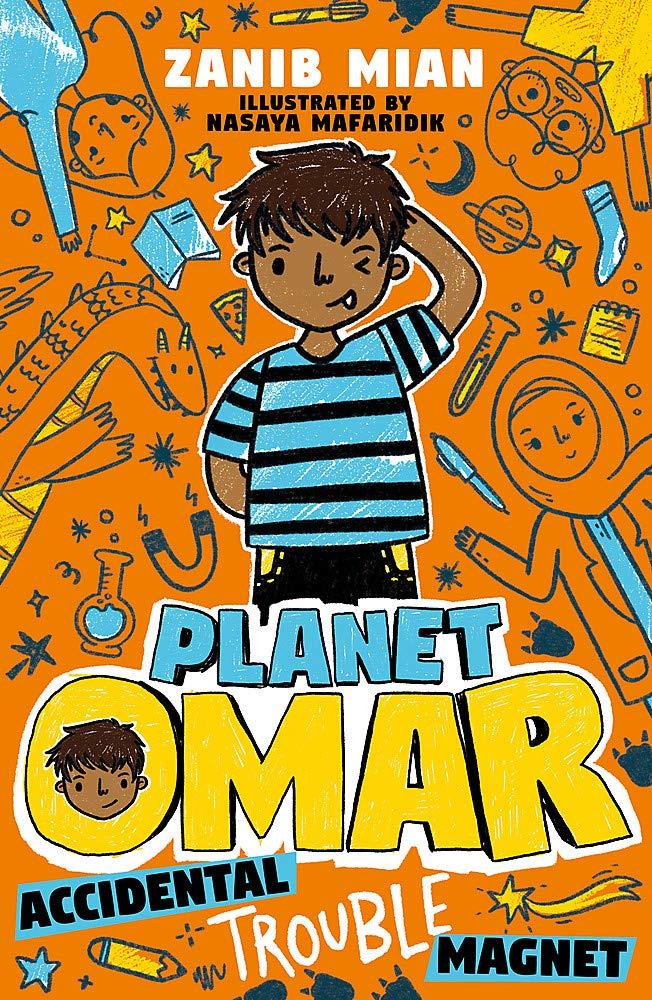 Planet Omar: Unexpected Super Spy by Zaniv Mian (2020)
Gr 3–6—When Omar's family moves to a new house, that means the 10-year-old must start the year at a new school. Omar is nervous because he thinks he will stand out as the new kid and because he is Muslim. Luckily for Omar, he has a great teacher and makes a new friend, Charlie, right away. But Omar and Charlie become the target of a bully, Daniel, who seems to dislike Omar for no other reason than he is Muslim. Daniel even goes as far as saying that all Muslims will be kicked out of the country. When Omar and Daniel are thrown together into a scary situation, the boys learn more about each other and realize that maybe they don't have to be enemies. Told from Omar's point of view, the playful text is bolstered with illustrations throughout that show off his creativity and imagination. VERDICT A great #OwnVoices story for children to learn more about connection and empathy.—Jayna Ramsey, Douglas County Libraries in Parker, CO, Copyright 2020 School Library Journal.
Image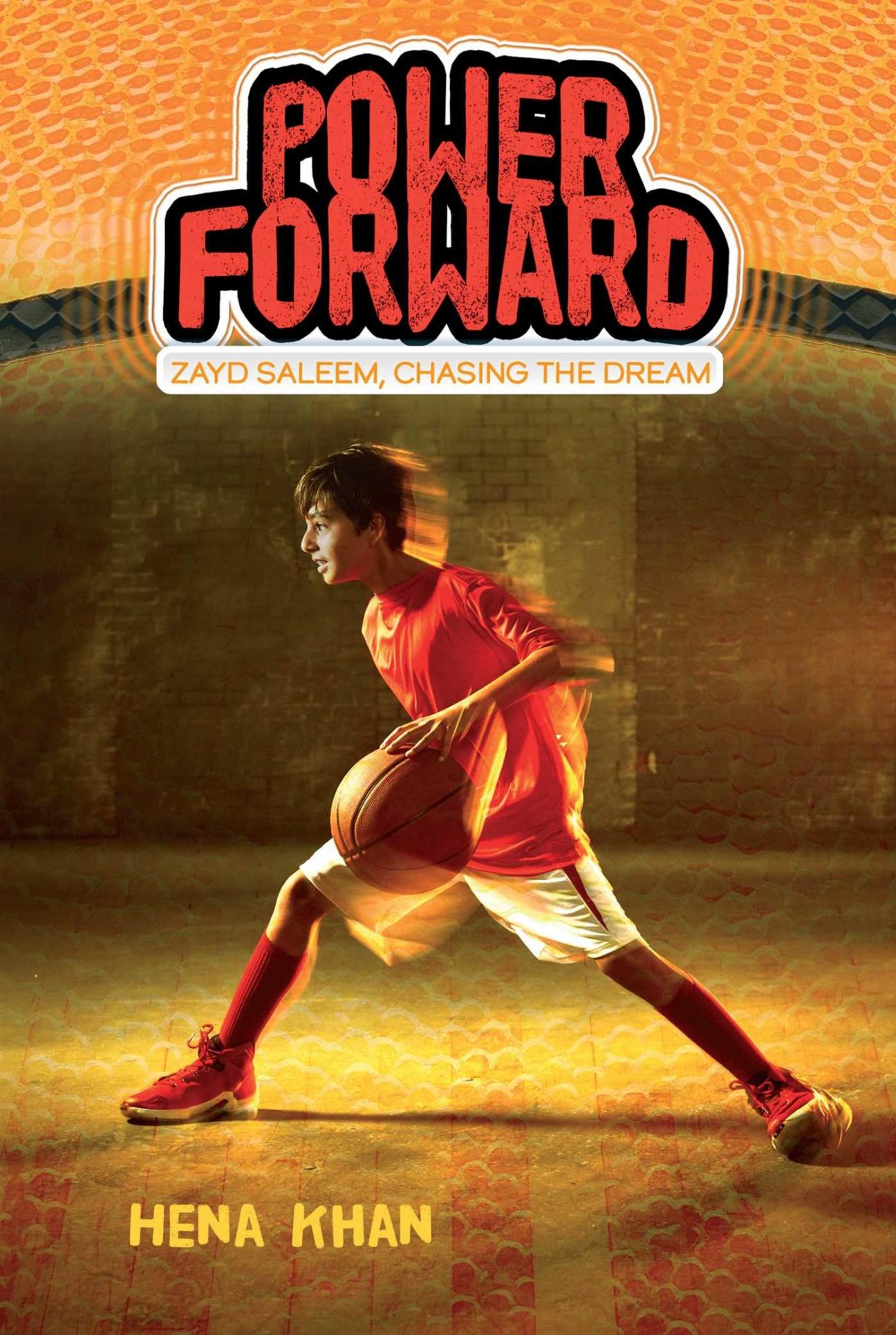 Power Forward: Zayd Saleem, Chasing the Dream by Hena Khan ( 2018)
Gr 3–6—Fourth grader Zayd Saleem is facing challenges, both on and off the basketball court. He is torn between obeying his parents by taking violin lessons and getting ready for tryouts to be a part of the Gold Team with his best friend Adam. Zayd makes an important decision: if he skips morning violin rehearsals, he can get in twice the practice for the tryouts. After two weeks, he is discovered and in big trouble. He must somehow convince his parents that playing basketball is suitable for a Muslim boy. Bits of jovial humor from characters like Jamal, Zayd's uncle, and Naano, his grandmother, add to the lightheartedness of this straightforward tale. VERDICT A fine purchase, especially where young readers are transitioning from chapter books to longer middle grade sports fiction.—Martha Rico, El Paso ISD, TX, Copyright 2018 School Library Journal.
Image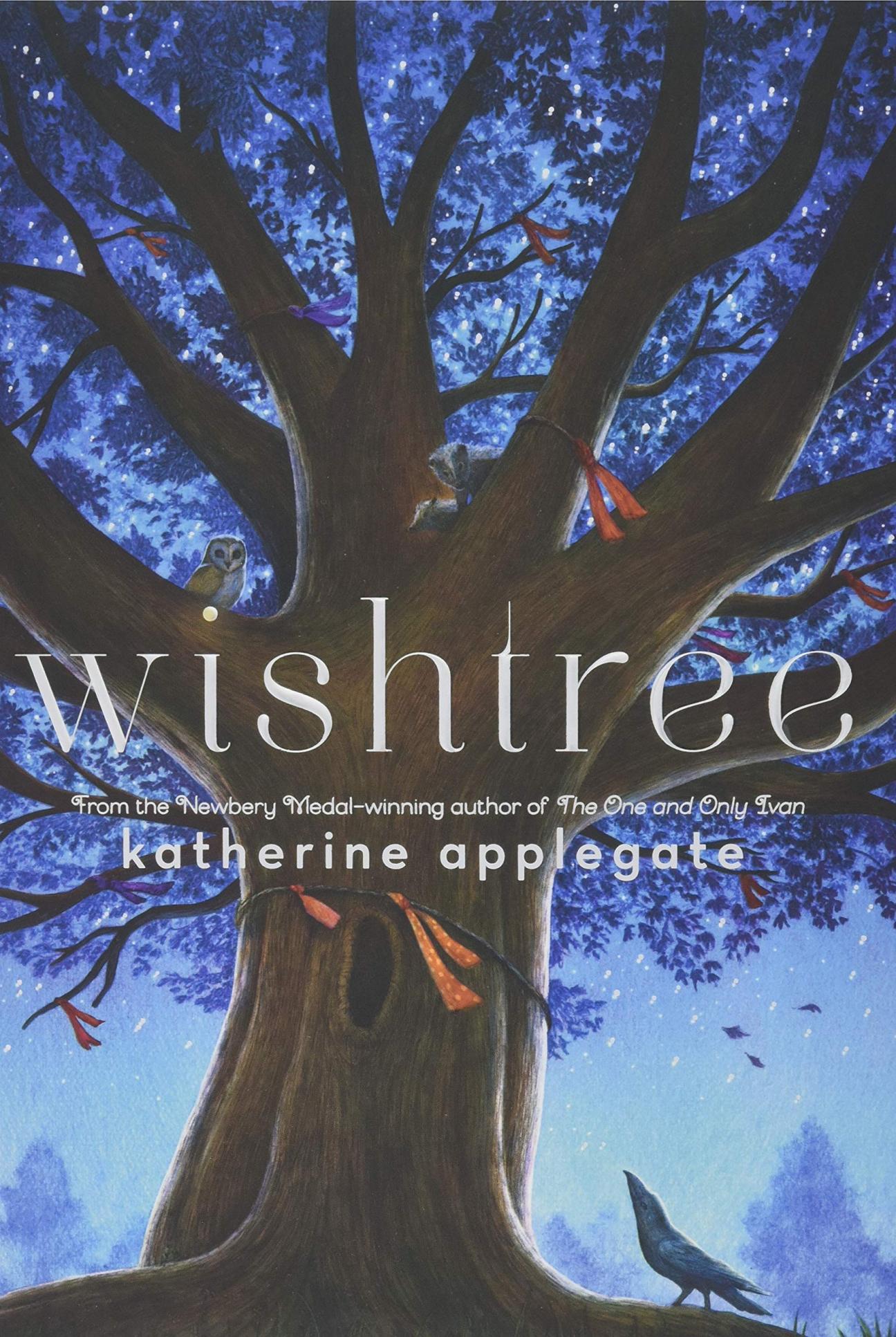 Wishtree by Katherina Applegate (2017)
The simplicity of Newbery Medalist Applegate's graceful novel contrasts powerfully with the prejudice it confronts. Narration comes from Red, an enormous red oak near an elementary school that also serves as a "wishtree" for the neighborhood—once a year, residents deposit wishes in Red's branches and hollows. Though trees aren't supposed to talk to humans, Red cares for them deeply, especially when a lonely girl named Samar and her Muslim family move into the neighborhood and receive a chilly, then hostile, reception: a boy carves "Leave" into Red's trunk, and the family endures taunts and other abuses. "I love people dearly," Red muses. "And yet. Two hundred and sixteen rings, and I still haven't figured them out." Applegate creates strong parallel between these threats and those that Red faces, as neighborhood matriarch Francesca contemplates cutting the tree down. As tension escalates in both the natural and human realms, Red's openhearted voice and generosity of spirit bring perspective gained over centuries of observation. It's a distinctive call for kindness, delivered by an unforgettable narrator. Ages 8–12. Copyright 2017 Publisher Weekly.
Image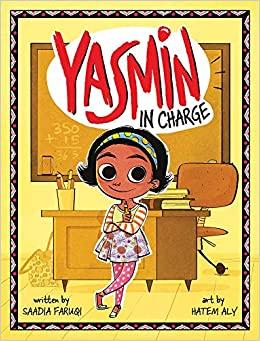 Yasmin in Charge by Saadia Farqui (2019)
Gr 1–3—Yasmin Ahmad is exploring the world around her with eagerness and curiosity. Yasmin learns about ancient explorers and mapmaking from her Baba, prompting her to explore the local farmer's market and plan out her journey. She also transforms into a fashionista when she's with her Nani, trying on her Mama's embroidered kameez and satin hijab. As she delves into new experiences, Yasmin also faces some common childhood fears and develops creative solutions on her own. Faruqi introduces readers to a delightful new beginning reader series that features an imaginative second grader who will quickly become a favorite among emergent readers. Aly's animated illustrations are the perfect complement to the text and bring Yasmin and her beloved family to life. The author includes back matter, such as vocabulary in Urdu as well as facts about Pakistan. VERDICT A definite purchase for any beginning reader collection.—Claire Moore, Manhattan Beach Library, CA Copyright 2018 School Library Journal.
Image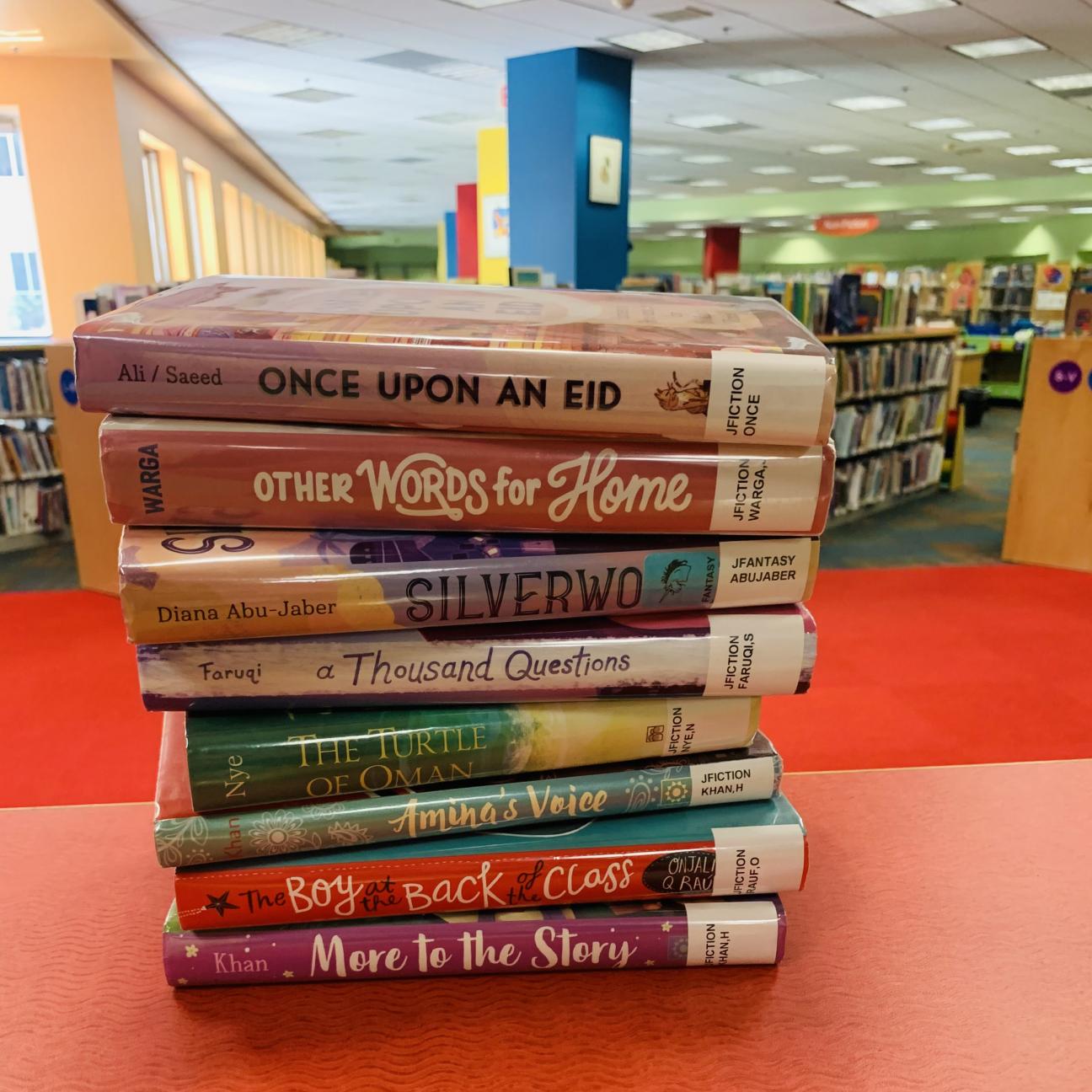 Middle School 
Image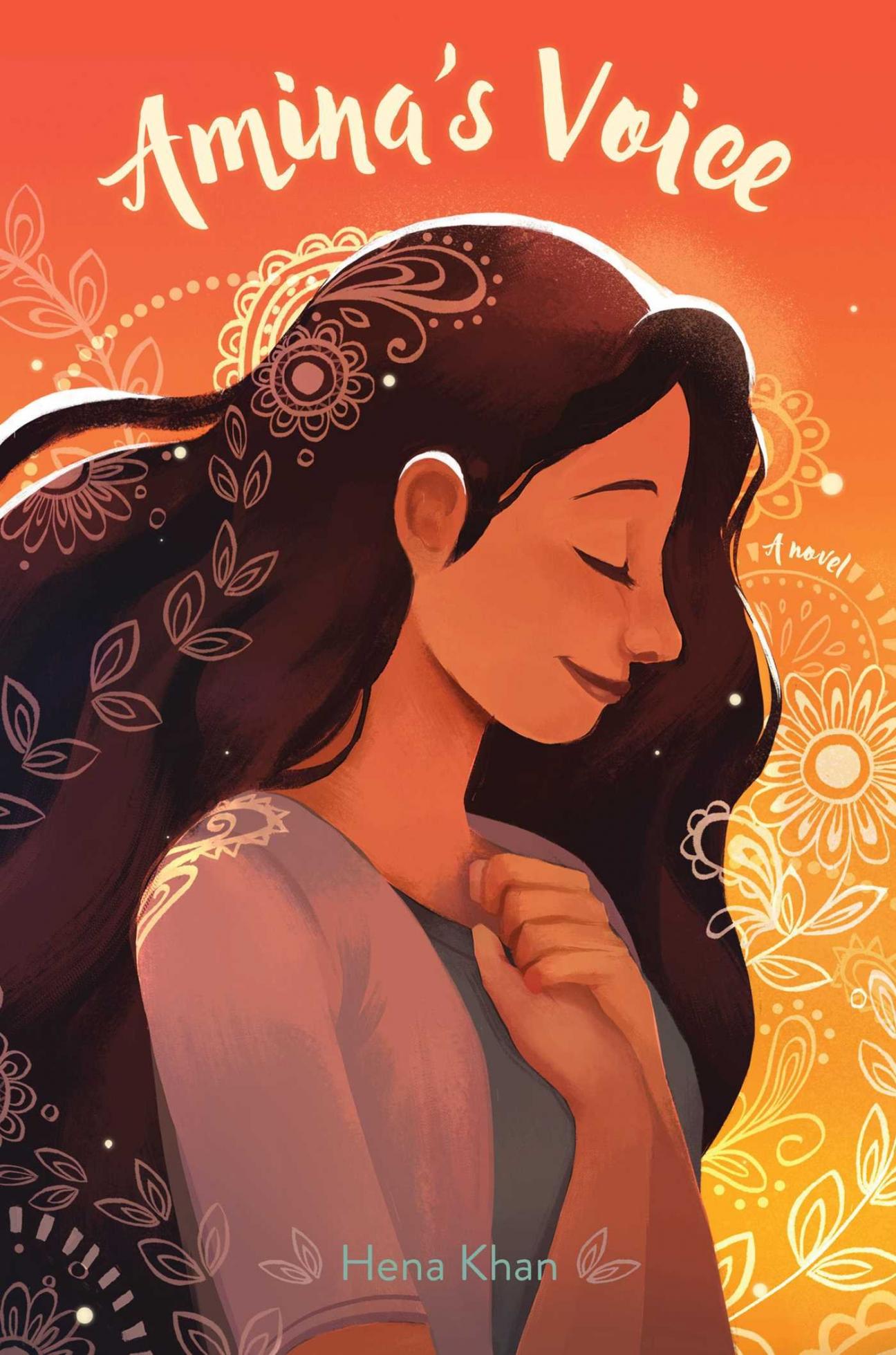 Amina's Voice by Hena Khan (2017)
Gr 4–6—A satisfying read about an 11-year-old girl navigating friendship, family, religion, and dreams of becoming a soul-singing sensation. In a quiet Milwaukee suburb, Amina and her best friend Soojin grapple with their own ethnic identities and the pressure to Americanize. Soojin is Korean American and on the pathway to citizenship. She's contemplating changing her name to solidify her American identity, while Amina, who is Pakistani American, must reconcile her love of singing Motown with her Muslim faith. Popular Emily, a white girl, who has a history of bullying, creates a wedge when she tries to befriend the pair, drawing skepticism from Amina. Things begin to unravel when Amina's uncle comes to visit from Pakistan and her deficiencies in Urdu and Arabic are exposed—along with the fact that Amina and her older brother, Mustafa, aren't necessarily the perfect children her father would like them to be. When the neighborhood mosque is vandalized, the greater community comes together. Amina's struggles to balance her faith, friendship, and aspirations are all resolved—albeit a bit too neatly. Copyright 2017 School Library Journal.
Image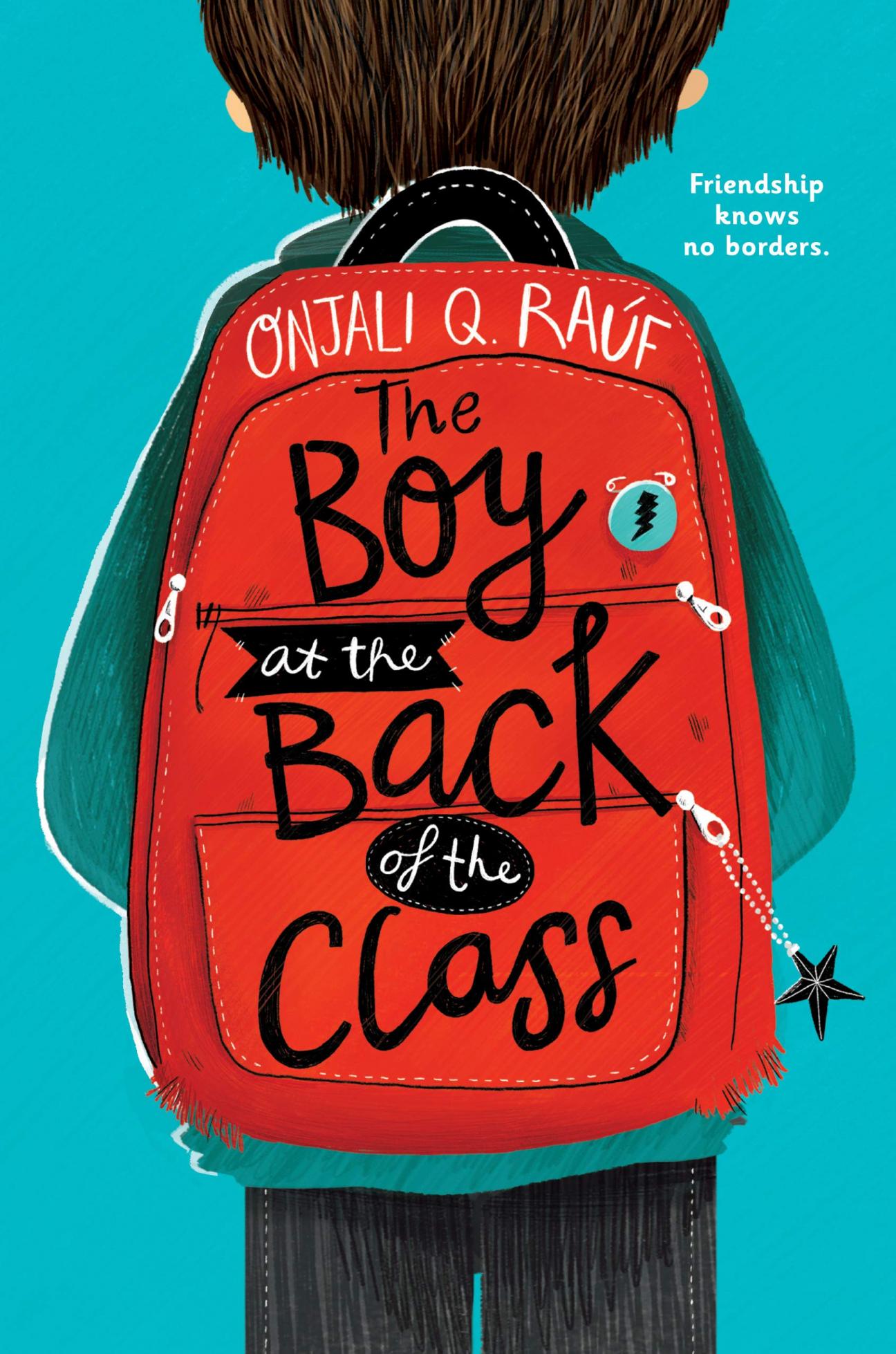 The Boy at the Back of the Class ( 2018)
When Ahmet, a Syrian refugee, begins attending a suburban London school, he doesn't speak with anyone, but as he gains support through an assistant teacher, a group of students get to know him as a soccer player and friend. As the tensions surrounding refugees and the closing of the country's borders intensifies, Ahmet confides in his new mates that he lost his sister in the journey across the sea and was separated from his parents before his flight to London. With the clock ticking to reunite Ahmet with his family before the borders close, the determined friends go directly to the prime minister and the High Court of Justice to make their plea. Political and cultural undertones are undeniably present in Rauf's timely debut, but it's the themes of kindness, empathy, and tenacity that resonate strongest. Rauf excels at tapping into the thoughts and concerns of contemporary children, providing wholly believable characters who use their voices to help others and create change, as well as offering a safe space for readers to explore and better understand the refugee crisis. Ages 8–12. (Aug.)Copyright 2019 Publishers Weekly Annex.
Image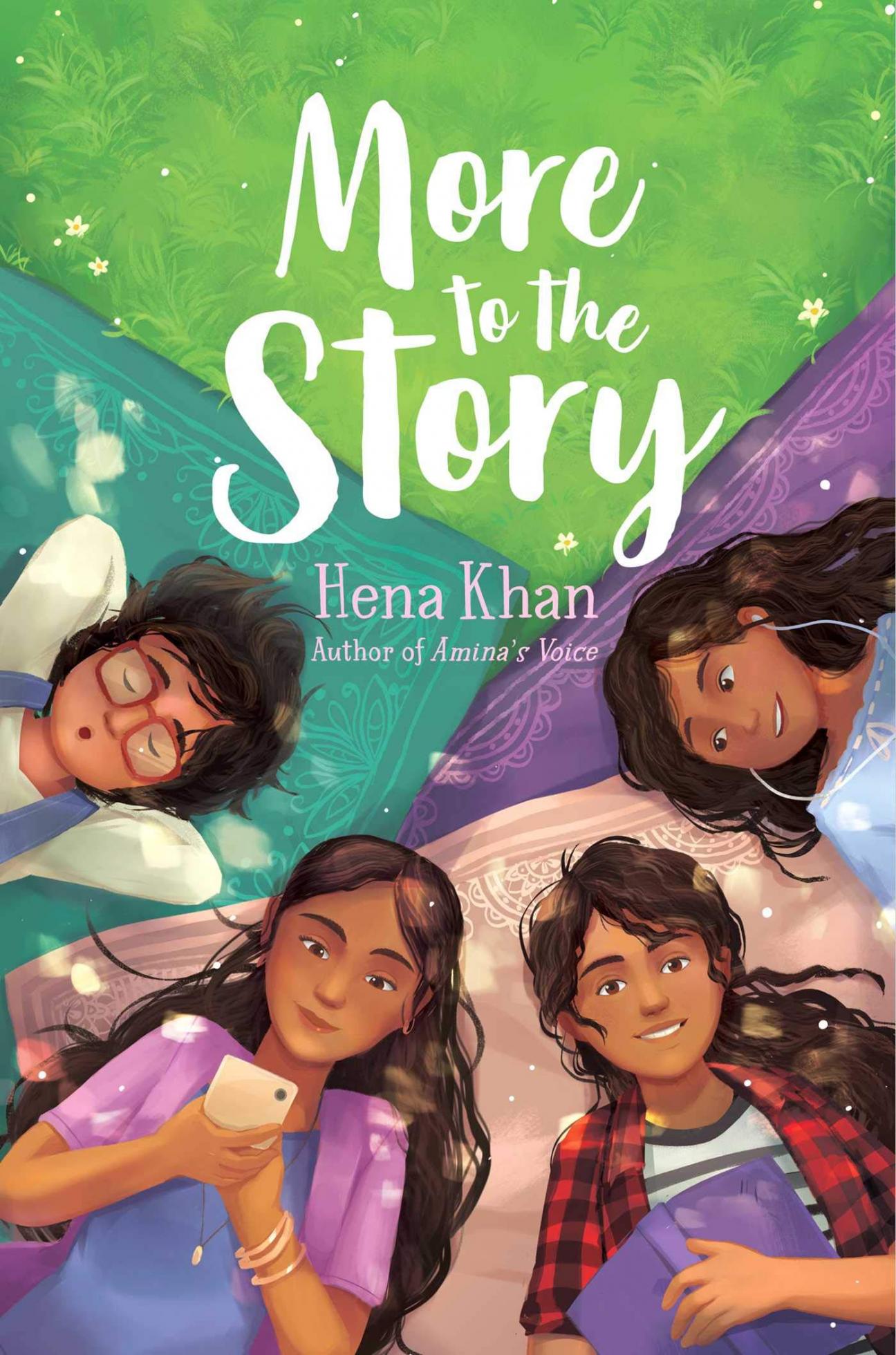 More to the Story by Hena Khan (2019)
In her latest novel, Khan (Amina's Voice, 2017) brings readers a charming take on Louisa May Alcott's 1868 classic, Little Women. Things for 13-year-old Jameela are great when she's named features editor of her school newspaper and becomes friends with Ali, who just moved to Georgia from London (dazzling English accent included). But when her dad is sent abroad for work for six months, things for Jameela and her three sisters feel like they're spiraling downhill, especially when one of her sisters falls ill. As her sister's condition worsens, Jameela must learn to curb her short temper to coexist with her sisters, while also learning that even as a journalist, some stories belong only to those who have lived them. Khan's homage to one of her favorite books growing up is engagingly written for a young, new generation. The plot takes a moment to thicken, but when it does, the natural prose and distinctive characters guide it along. Like Little Women, this is a story that is sure to appeal to many. Grades 4-7. Copyright 2019 Booklist Reviews.
Image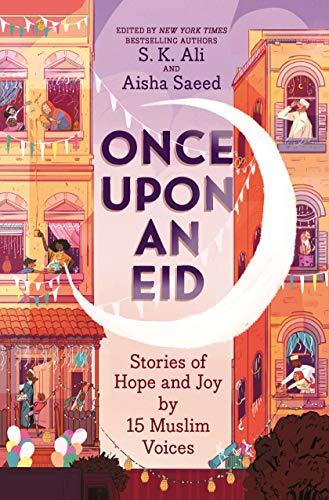 Once Upon an Eid Edited by S.K. Ali and Aisha Saeed (2020)
This effervescent anthology, edited by Ali (Love from A to Z) and Saeed (Amal Unbound), binds together 15 short stories in a variety of formats that explore the festival of Eid. While the annual Muslim celebration is a major component, the authors also interweave deeper explorations of the Islamic faith into their tales, which combine insights on Muslim culture with a message on the importance of such traits as generosity and resilience. Asmaa Hussein's "Kareem Means 'Generous,'?" for example, features Kareem's discovery of the pleasure he gains from sharing his good fortune. Candice Montgomery contributes a moving narrative about 11-year-old Leila's first experience wearing a hijab, conveying both the girl's excitement and her mother's anxiety over potential backlash. Leila's closeness with family and positive interactions with classmates further exemplify fulfilling interpersonal relationships that appear throughout the book. No two stories are alike: the inclusion of a narrative in poem ("Taste," by Hanna Alkaf) and a short graphic novel (G. Willow Wilson's "Seraj Captures the Moon") ensures various reading formats. Moreover, a range of diverse, multidimensional characters—among them Shia Muslim, converted Muslim, Algerian, Caribbean, and West African representation—results in a stimulating, celebratory read. Ages 8–12. Copyright 2020 Publishers Weekly.
Image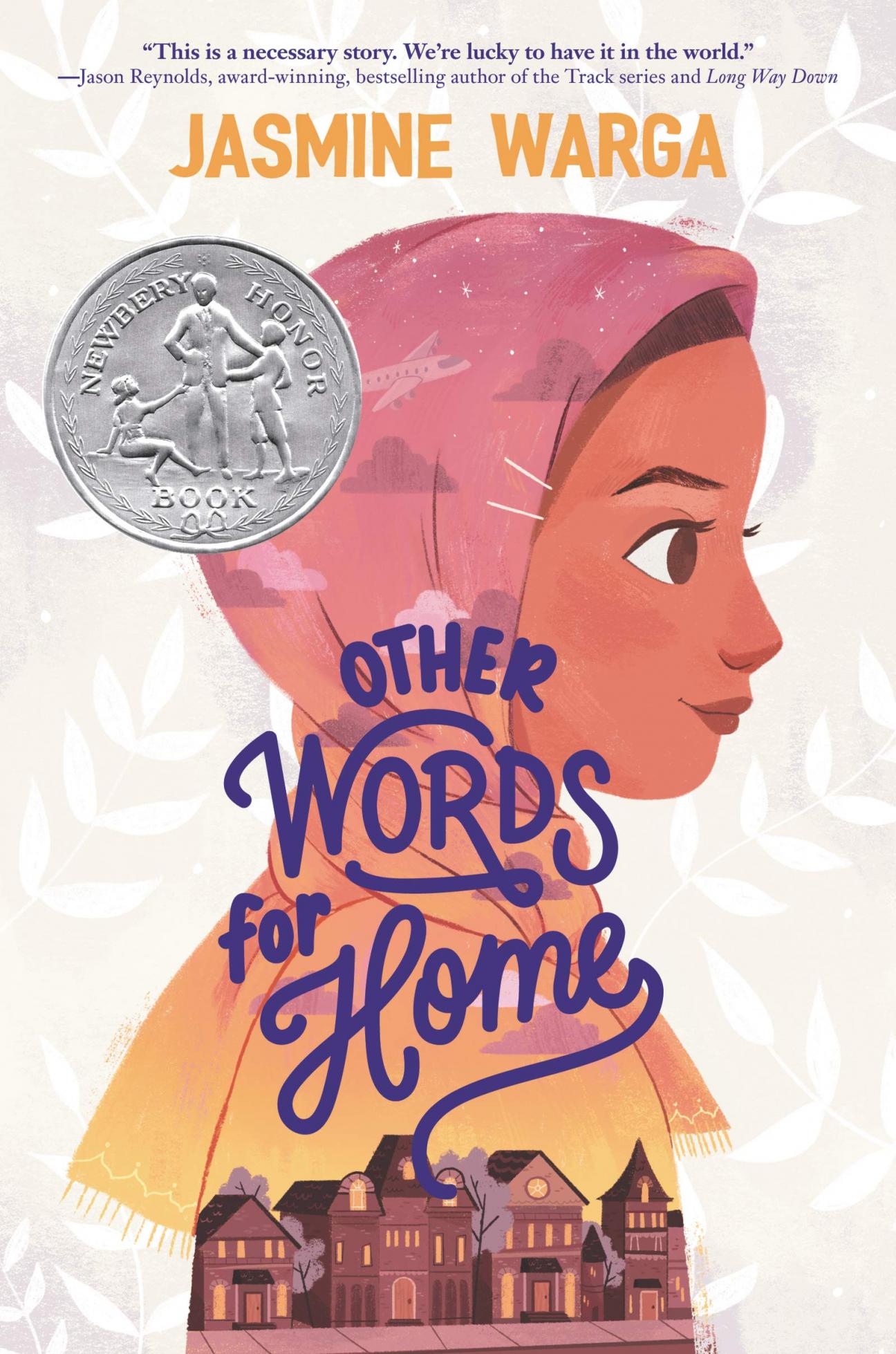 Other Words for Home by Jasmine Warga (2019)
Written in first-person free verse, this timely book traces the internal journey of a young Syrian refugee adjusting to a new home and culture in the U.S. When violence erupts near their seaside city, Jude and her pregnant mother flee to Cincinnati to stay with Jude's uncle and his family while her shopkeeper father and activist brother ("He is always talking about change") stay behind. In the U.S., Jude is warmly welcomed by her aunt and uncle but treated with cool indifference by her cousin, who abandons her at school, leaving Jude to navigate seventh grade in a new environment on her own. Jude struggles to fit in among students who "don't look like me," but she remembers her brother's parting words—"Be brave"—and finds comfort with her new friend Layla, whose parents are from Lebanon. Rhythmic lines distill Jude's deepest emotions—homesickness, fear when her brother enters a war zone, shock over prejudice in the U.S., and a sense of victory when she receives a speaking role in the school play. Warga (My Heart and Other Black Holes) effectively shows, as she writes in an author's note, that "children who are fleeing from a war zone... want the same things all of us do—love, understanding, safety, a chance at happiness." Ages 8–12. Copyright 2019 Publishers Weekly.
Image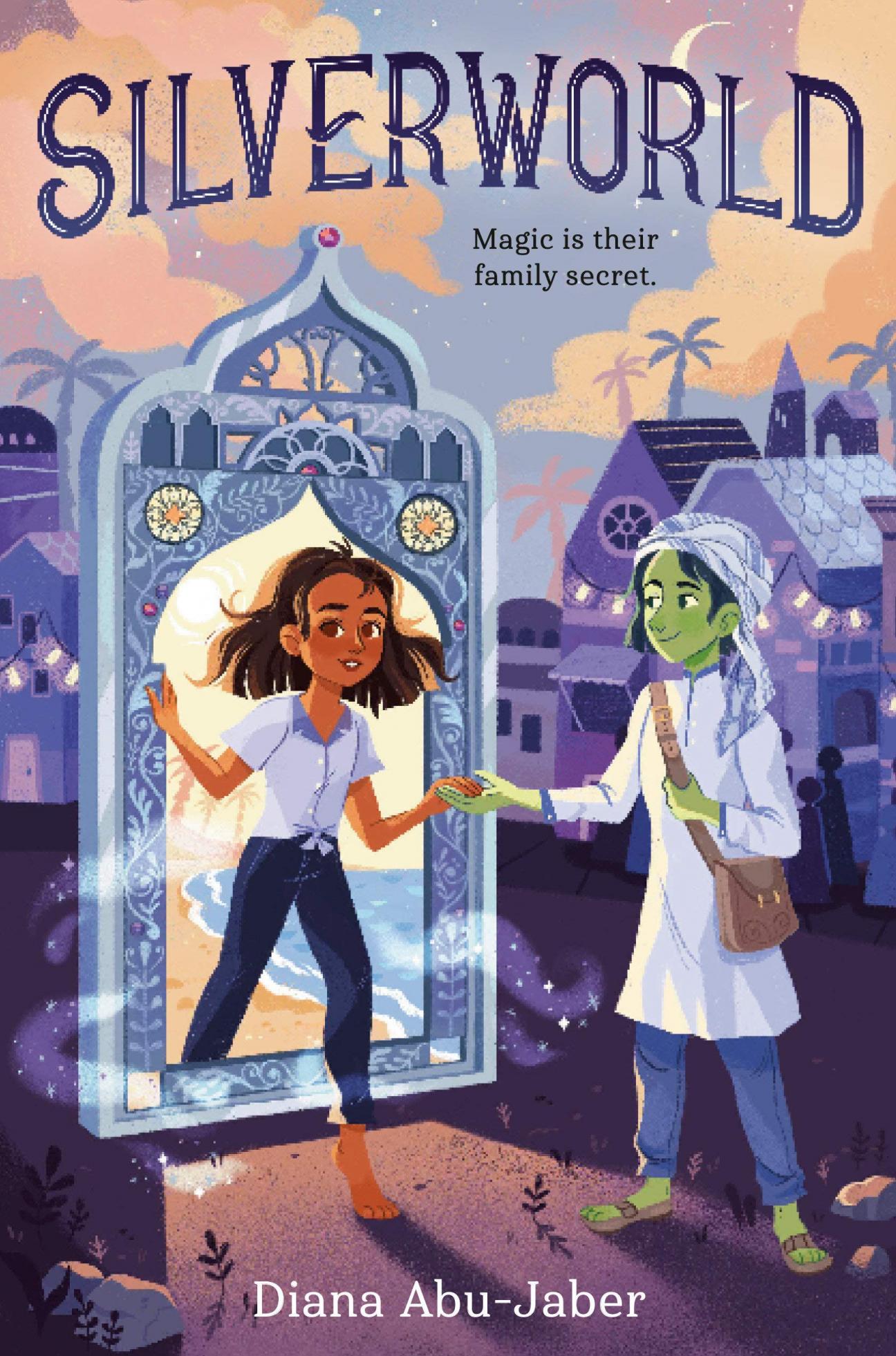 Silverworld by Diana Abu-Jaber (2020)
Gr 3–5—Sami's Lebanese grandmother Sitti's health is declining, and she is saying things that only Sami seems to understand. Sami's father has died, and now her family wants to move Sitti into a home. But Sitti has always told Sami stories of magic, and the young girl believes that, with that magic, she can change things. When Sami falls through the old mirror in her room, she finds Silverworld. Believing that if she can save Silverworld from the invasive Shadow Queen Nixie, she can save Sitti, Sami embarks on a quest and finds she is more special than she ever thought. While this world is painted as a magical fantasy with dark Shadows, who talk and transform, and light Flickers, who have all colors of skin and hair, it feels rooted in reality. Readers may struggle to get lost in the magic. The book takes place in the modern world and has references to current issues, but lacks the depth to deliver a nuanced portrayal of the Bedouin and Arab cultures that are very much alive today, and not a romanticization limited to flowing clothes and golden headdresses. The occupants of Silverworld feel one-dimensional and inconsistent in a way that is distracting. There is also a lack of emotional intensity that these kinds of adventures usually elicit. While the author's note emphasizes the importance of story and giving a voice to those trying to fit between cultures, there are other examples of this done much more successfully. VERDICT Though this character gives a true meaning to the notion of living in two worlds, the story does not develop enough depth to make it a first purchase.—Clare A. Dombrowski, Amesbury Public Library, MA Copyright 2020 School Library Journal.
Image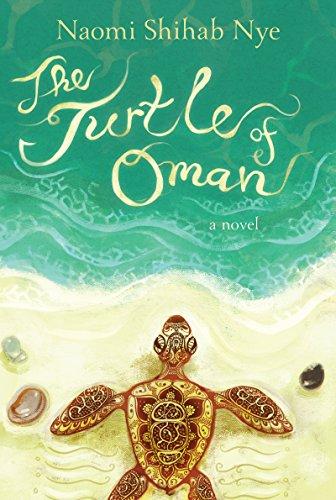 The Turtle of Oman by Naomi Shihab Nye (2014)
Aref Al-Amri doesn't want to accompany his professor parents on their three-year stint to Ann Arbor, Mich., so he spends his last days in Oman thinking of reasons not to go. Nye (There Is No Difference Now) writes in lyrical prose from a close third-person perspective, poignantly capturing Aref's impressions of and reflections on the people, places, and experiences he will leave behind, such as the ocean view from his house's roof, his cat Mish-Mish, and conversations with his beloved grandfather, Sidi: "Words blended together like paint on paper when you brushed a streak of watercolor orange onto a page, blew on it and thin rivers of color spread out, touching other colors to make a new one." Aref's handwritten lists of newly learned facts ("Wood turtles are enormous") or questions he wonders about ("Why can't Sidi come with us?") appear throughout, emphasizing his intellect and emotions: "Were eyes little factories that made as many tears as you needed?" While conveying Aref's ambivalence about leaving home, this tender story also reveals the inner resources that will help him navigate his new environment. Ages 8–12. Copyright 2014 PWxyz LLC
Image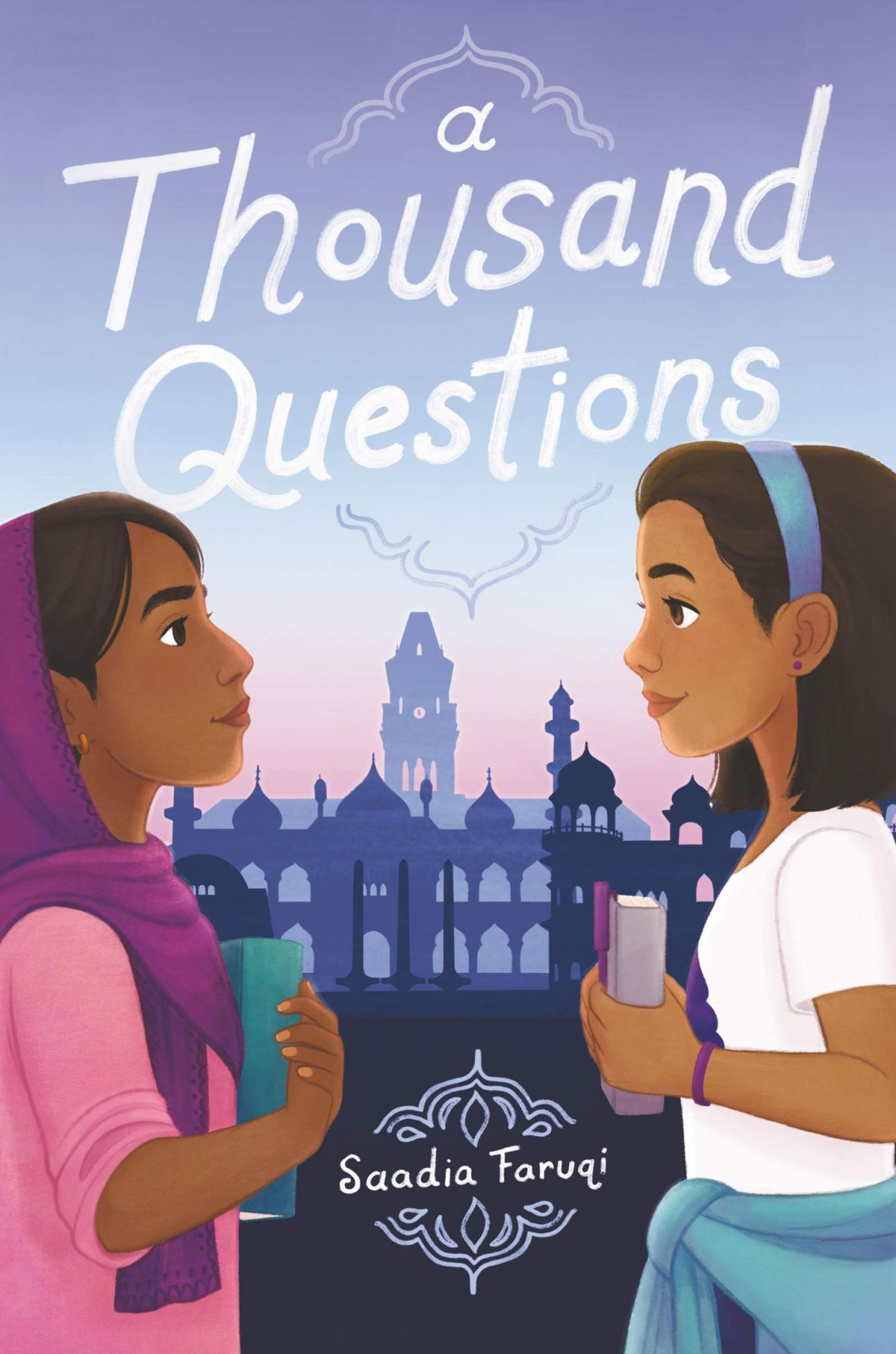 A Thousand Questions by Saadia Farqui (2020)
Traveling with her mother, Mimi arrives in Karachi, Pakistan, for a summer with her grandparents, previously known only from awkward Skype visits. Meanwhile, Sakina, who helps her father cook for Mimi's grandparents, receives word that she can attend school only if her English-language skills improve. The girls' first encounters are rocky, but each needs something that the other provides (practice in English for Sakina, a guide to Karachi for Mimi). Despite occasional friction and misunderstandings, they gradually form a bond. Mimi keeps a journal, written as a letter to her estranged father, who left when she was five. Learning that he's in Karachi, she's determined to find him, whatever the outcome. Born in Karachi, Faruqi writes in first person, with chapters alternating between Mimi's and Sakina's points of view, with each revealing misconceptions about the other's culture. As they learn from their differences and similarities, the narrative is enriched by the dual perspective. The inviting book-jacket image suggests the story's distinctive setting, the girls' backgrounds, and their relationship, three fundamental elements of this engaging chapter book. Grades 4-7. Copyright 2020 Booklist Reviews.
More Books for Arab American Heritage Month