"Scary movies tend to make an unspoken promise with the audience, which suggests that they have nothing to fear as long as the camera stays in the light," says David Opie of the BBC. We tend to feel this way about the summer, as well. The bright Florida sunshine makes us feel like we should be lying on the beach, hanging out with our friends, or just having fun outside.
Image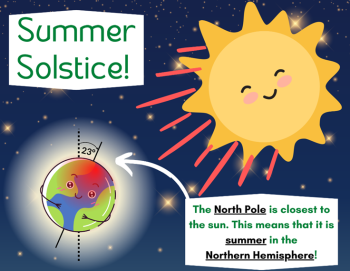 As the Earth spins on its axis, different parts of the globe are closest to the sun at different times, causing the seasons to change. The closer you are to the North and South Poles, the more you will feel the effects! The Summer Solstice occurs when the Earth's poles have reached their maximum tilt toward the sun, giving us the "longest" day of the year. In the Northern Hemisphere, we experience this between June 20-22, but the Southern Hemisphere has its Summer Solstice between December 20-22. Around the world, this season brings many fun (and sometimes spooky!) celebrations.
The Summer Solstice in and near the Arctic Circle results in what is known as the Midnight Sun, where the sun does not set for the whole season! Parts of Finland have 72 straight days and nights of sunlight, and the sun doesn't set in Norway at all between April 19 and August 23. Even places as far south as London won't see true nighttime during the solstice. Festivals praising the sun, the harvests, and the new beginnings that the season will bring are held across the Northern parts of the world.
In Japan, the Obon Festival is celebrated in July or August, depending on where you live. This is considered Peak Ghost Season, and for good reason - now is when ancestors cross over to visit with their still-living loved ones.
The peace of Japan's Edo period (1603-1868) brought about a marked increase in ghost stories called "kaidan (怪談)." Themes of karma and vengeance were heavily present throughout the period and have lasted through to today. From these stories came the now-familiar "Japanese Ghost," floating in the air with her long black hair and white funeral clothes.
Although in America, we don't have many large solstice festivals, it has become somewhat of a tradition for horror movies to have theatrical releases in the summer following Jaws' "splash" in the mid-1970s. Soon after, the 1980s saw the rise of Summer Camp Horror. These stories have followed us through the centuries, highlighting the terror some people feel in the unending heat and light of the summer sun. The events in Dracula are happening as we speak! Camp Nightmare is just opening its doors!
👻 So, before we get too spooky, let's read some books!! 👻
Adult Books

Image

Dracula* by Bram Stoker

The quintessential horror tale of the powerful, centuries-old vampire follows his bloodthirsty trail from the mountains of Central Europe to England, until the savvy Dr. Van Helsing comes up with a way to end his reign of terror.

*I love this book so much, so I'm sending you all to the whole search result instead of just one. Recommended: the unbelievable board book, Mike Mignola's (💖🖤) graphic novel that I'm so obsessed with based on Coppola's movie, Bella Lugosi's movie, and of course, the original novel.

 

 

 

Image

My Best Friend's Exorcism: A Novel by Grady Hendrix

1988. Charleston, South Carolina. High school sophomores Abby and Gretchen have been best friends since fourth grade. But after an evening of skinny-dipping goes disastrously wrong, Gretchen begins to act--different. She's moody. She's irritable. And bizarre incidents keep happening whenever she's nearby. Abby's investigation leads her to some startling discoveries--and by the time their story reaches its terrifying conclusion, the fate of Abby and Gretchen will be determined by a single question: Is their friendship powerful enough to beat the devil?

 

 

 

 

Image

Ghost Summer Stories by Tananarive Due

In her debut collection of short fiction, Due takes us to Gracetown, a small Florida town that has both literal and figurative ghost; into future scenarios that seem all too real; and provides empathetic portraits of those whose lives are touched by Otherness. Featuring an award-winning novella and fifteen stories.

 

 

 

 

Image

A touch of Jen by Beth Morgan

A funny and terrifying debut novel looks at a love triangle so toxic that it breaks the order of the universe and unleashes a literal monster.

 

 

 

 

 

 

Image

Meddling Kids: A Novel by Edgar Cantero

The surviving members of a forgotten teen detective club and their dog reunite as broken adults to embark on a wacky effort to solve a terrifying cold case that ruined them all and sent the wrong man to prison. By the author of The Supernatural Enhancements.

 

 

 

 

 

Image

Night of the Mannequins by Stephen Graham Jones

Award-winning author Stephen Graham Jones returns with Night of the Mannequins, a contemporary horror story where a teen prank goes very wrong and all hell breaks loose: is there a supernatural cause, a psychopath on the loose, or both?

 

 

 

 

 

Image

Salvage the Bones: A Novel by Jesmyn Ward

Enduring a hardscrabble existence as the children of alcoholic and absent parents, four siblings from a coastal Mississippi town prepare their meager stores for the arrival of Hurricane Katrina while struggling with such challenges as a teen pregnancy and a dying litter of prize pups.

 

 

 

 

 

Image

Summer Sons by Lee Mandelo

Lee Mandelo's debut Summer Sons is a sweltering, queer Southern Gothic that crosses Appalachian street racing with academic intrigue, all haunted by a hungry ghost. Andrew and Eddie did everything together, best friends bonded more deeply than brothers, until Eddie left Andrew behind to start his graduate program at Vanderbilt. Six months later, only days before Andrew was to join him in Nashville, Eddie dies of an apparent suicide. He leaves Andrew a horrible inheritance: a roommate he doesn't know, friends he never asked for, and a gruesome phantom that hungers for him. As Andrew searches for the truth of Eddie's death, he uncovers the lies and secrets left behind by the person he trusted most, discovering a family history soaked in blood and death. Whirling between the backstabbing academic world where Eddie spent his days and the circle of hot boys, fast cars, and hard drugs that ruled Eddie's nights, the walls Andrew has built against the world begin to crumble. And there is something awful lurking, waiting for those walls to fall.

 

 

Image

Fierce Kingdom: A Novel by Gin Phillips

Trapped in a closed zoo after witnessing a life-shattering event, a woman and her four-year-old son navigate the zoo's hidden pathways and under-renovation exhibits to stay ahead of a dangerous adversary who tests their survival and the limits of the mother-child bond

 

 

 

 

 

Image

Speaking of Summer: A Novel by Kalisha Buckhanon

On a cold December evening, Autumn Spencer's twin sister Summer walks to the roof of their shared Harlem brownstone and is never seen again, the door to the roof is locked, and no footsteps are found. Faced with authorities indifferent to another missing woman, Autumn must pursue answers on her own, all while grieving her mother's recent death. With her friends and neighbors, Autumn pretends to hold up through the crisis. She falls into an affair with Summer's boyfriend to cope with the disappearance of a woman they both loved. But the loss becomes too great, the mystery too inexplicable, and Autumn starts to unravel, all the while becoming obsessed with murdered women and the men who kill them.

 

 

 

Image

The Girls: A Novel by Emma Cline

Mesmerized by a band of girls in the park whom she perceives as enjoying a life of free and careless abandon, 1960s teen Evie Boyd becomes obsessed with gaining acceptance into their circle. Evie, grateful for their charismatic leader's attention, the sense of family the group offers, and the assurance of the girls, is swept into their chaotic cult existence. As things turn darker, her choices become riskier. A wonderfully written debut novel about the harm we can do, to ourselves and others, in our hunger for belonging and acceptance.

 

 

 

 

Image

Blood on the Tracks. Volume 1 by Shūzō Oshimi

Ordinary middle school student Seiichi Osabe receives love and care from his mother Seiko. Until one summer an incident changes the family dynamic forever. This is a story of a mother, a love that has gone too far. This series of thriller comics centers on the theme of a toxic parent and it is a tale of a seemingly normal family suddenly swallowed up by the creeping horror of everyday life.

 

 

 

 

Image

The Seep by Porta Chana

Trina Goldberg-Oneka is a fifty-year-old trans woman whose life is irreversibly altered in the wake of a gentle-but nonetheless world-changing-invasion by an alien entity called The Seep. Through The Seep, everything is connected. Capitalism falls, hierarchies and barriers are broken down; if something can be imagined, it is possible. Trina and her wife, Deeba, live blissfully under The Seep's utopian influence-until Deeba begins to imagine what it might be like to be reborn as a baby, which will give her the chance at an even better life. Using Seeptech to make this dream a reality, Deeba moves on to a new existence, leaving Trina devastated. Heartbroken and deep into an alcoholic binge, Trina follows a lost boy she encounters, embarking on an unexpected quest. In her attempt to save him from The Seep, she will confront not only one of its most avid devotees, but the terrifying void that Deeba has left behind. A strange new elegy of love and loss, The Seep explores grief, alienation, and the ache of moving on.

 

 

Image

Gantz by Hiroya Oku

Tokyo teens Kei and Masaru are killed by a subway train but awaken in a room with an ominous black orb that gives them weapons, suits . . . and orders. Fighting bizarre alien monstrosities in a deadly game, will they win their freedom or die for the final time?

 

 

 

 

 

Kids Books

Image

Hide and Seeker by Daka Hermon

Something is wrong with twelve-year-old Zee, who has returned after a year's absence; nobody knows where he was or what happened to him, but now he is distracted and violent, freaking out when he sees his friends, Justin, Nia, and Lyric, playing an odd game of hide-and-seek, and talking wildly about some danger that is approaching--and soon his friends are pulled into a shadowy world ruled by a monstrous, shape-shifting Seeker, forced to play a terrifying game of hide-and-seek where they will have to confront their worst nightmares in order to find their way home

 

 

 

 

Image

Camp Murderface by Josh Berk

The year: 1983. The place: Ohio. The camp: Scary as heck. Camp Sweetwater is finally reopening, three decades after it mysteriously shut down. Campers Corryn Quinn and Tez Jones have each had more than enough of their regular lives--they're so ready to take their summer at Sweetwater by storm. But before they can so much as toast one marshmallow, strange happenings start...happening. Can they survive the summer? Or will Camp Sweetwater shut down for good this time--with them inside?

 

 

 

 

Image

Just South of Home by Karen Strong

Twelve-year-old Sarah is finally in charge. At last, she can spend her summer months reading her favorite science books and bossing around her younger brother, Ellis, instead of being worked to the bone by their overly strict grandmother, Mrs. Greene. But when their cousin, Janie arrives for a visit, Sarah's plans are completely squashed. Janie has a knack for getting into trouble and asks Sarah to take her to Creek Church: a landmark of their small town that she heard was haunted. It's also off-limits. Janie's sticky fingers lead Sarah, Ellis and his best friend, Jasper, to uncover a deep-seated part of the town's past. With a bit of luck, this foursome will heal the place they call home and the people within it they call family.

 

 

 

Image

The Nest by Kenneth Oppel

When wasps come to Steve in a dream offering to fix his sick baby brother, he thinks all he has to do is say yes. But yes may not mean what Steve thinks it means.

 

 

 

 

 

Image

Welcome to Camp Nightmare by R.L. Stein

Baffled at the series of strange, unexplained events taking place at summer camp in the desert wilderness, twelve-year-old Billy considers escaping the horrors forever

 

 

 

 

 

Image

Camp Fear Scooby-Doo Comic Storybook Series, Book 3 by Lee Howard

Scooby-Doo is probably the world's best-known and most loved cartoon pooch. Scholastic's books are the #2 Scooby licensed product in the world! Scooby and Shaggy are spending the summer as counselors at Camp Kichihaha. But—zoinks!—a horrible swamp creature is haunting the camp! Can the two buddies unmask the toxic terror before they get swallowed up in green goo? This is the third in our new series of Scooby-Doo comic storybooks. It's perfect for Scooby fans who are just getting ready to read comic books.

 

 

 

 

Image

Zombie Camp by Nadia Higgins

Get to know Zombie Zappers Leo, Chad, and the rest of the gang as they try to solve the mystery of the Smellerd zombies at summer camp. What nightmarish surprise will they find waiting for them at Lake Moan?

 

 

 

 

 

Image

Spirit Hunters by Ellen Oh

Harper doesn't trust her new home from the moment she steps inside, and the rumors are that the Raine family's new house is haunted. Harper isn't sure she believes those rumors, until her younger brother, Michael, starts acting strangely. The whole atmosphere gives Harper a sense of de'ja vu, but she can't remember why. She knows that the memories she's blocking will help make sense of her brother's behavior and the strange and threatening sensations she feels in this house, but will she be able to put the pieces together in time?

 

 

 

 

Image

Small Spaces by Katherine Arden

After eleven-year-old Ollie's school bus mysteriously breaks down on a field trip, she has to take a trip through scary woods, and must use all of her wits to survive. She must stick to small spaces.

 

 

 

 

 

Image

The Jumbies by Tracey Baptiste

Eleven-year-old Corinne must call on her courage and an ancient magic to stop an evil spirit and save her island home.

 

 

 

 

 

 

Image

LumberJanes. 20, End of Summer by Shannon Watters

Jo, Mal, Molly, April, Ripley and the scouts of Miss Qiunzella Thiskwin Penniquiqul Thistle Crumpet's Camp for Hardcore Lady Types are running out of time to fight back against the mysterious force known as the Grey! And even if they succeed, they will have to deal with their biggest challenge yet--saying goodbye as summer finally comes to an end

 

 

 

 

 

Movies!

Image

The Town that Dreaded Sundown [1979 version] [and The evictors]

Also: The Town that Dreaded Sundown [2014 version]

In 1946, the joy and relief over the ending of World War II and the happiness over the prosperity that followed were destroyed by five unsolved brutal murders in Texarkana, Texas, by a masked madman who eluded capture by the Texas Rangers.

 

 

 

 

Image

Also: Crystal Lake Memories: the Complete History of Friday the 13th; Friday the 13th. Part 2;     
Friday the 13th. Part 3, 3-D 

Camp Crystal Lake has been shuttered for years until the camp's new owner and seven young counselors re-open it, despite warnings of a 'death curse' by local residents. On Friday the 13th the curse proves true as a violent killer stalks each counselor.

 

 

 

Image

A camp caretaker who was horribly burned from a prank that went awry stalks a summer camp in New York bent on killing the kids responsible for his disfigurement.

 

 

 

 

 

Image

Also: Sleepaway Camp. II, Unhappy Campers; Sleepaway Camp. III, Teenage Wasteland

Teenage campers at Camp Arawak start dying in horrible "accidents."

 

 

 

 

Image

I Know What You Did Last Summer

Also: I Still Know What You Did Last Summer; I'll Always Know What You Did Last Summer

After an accident on a winding road, four teens make the fatal mistake of dumping their victim's body into the sea. But exactly one year later, the dead man returns from his watery grave, and he's looking for more than an apology.

 

 

 

 

Image

Also: Cabin Fever 2 Spring Fever; Cabin Fever: Patient Zero

Five friends celebrate their college graduation by driving to a remote cabin in the woods to enjoy their last days of summer. When one of them contracts a grisly and deadly sickness that causes her skin to fester and burn, the others soon realize if they get too close, they may be next. What begins as a struggle against disease, soon turns into a battle of friend against friend as the fear of the contagion increases.

 

 

 

Image

Also: https://tinyurl.com/d4ee6x6f

A horror thriller about modern youth gone wild.

 

 

 

 

Image

A haunting horror fairytale set against the backdrop of Mexico's devastating drug wars; follows a group of orphaned children who are unexpectedly given three magical wishes. As they run from the cartel that murdered their parents and the ghosts that haunt them, they must decide how to use this special gift to save their own lives and the people they love.

 

 

 

 

Image

Also: Stage Fright (1950) Not the same but literally HOW could we pass up this cast? this drama? marlene dietrich!? "that sounds like a remarkable case of blackmail!" watch the trailer at the very least.

A film about a performing arts camp that is terrorized by a bloodthirsty killer who despises musical theatre just as the Seasonal Grand Performance is about to begin.

 

 

 

Image

Four American counselors at a European summer camp must deal with the outbreak of a rage inducing plague among the children they are supervising.

 

 

 

 

 

Image

Set in the summer of 1984, 15-year-old Davey Armstrong convinces his three best friends to help him investigate if Davey's police officer neighbor is the serial killer that is hunting in their Oregon hometown.

 

 

 

 

 

Image

In the sleepy small town of Centerville, something is not quite right. The moon hangs large and low in the sky, the hours of daylight are becoming unpredictable, and animals are beginning to exhibit unusual behaviors. No one quite knows why, and no one foresees the strangest and most dangerous repercussion that will soon start plaguing the town. The dead rise from their graves and savagely attack and feast on the living, and the citizens of the town must battle for their survival.

 

 

 

 

Image

Also: Get Out

Haunted by trauma from her past and compounded by a string of eerie coincidences, Adelaide grows increasingly certain that something bad is going to befall her family. After spending a tense beach day with their friends, Adelaide and her family return to their vacation home. When darkness falls, the Wilsons discover the silhouette of four figures holding hands as they stand in the driveway. The endearing American family faces doppelgangers of themselves.

 

 

 

Image

A young woman reluctantly joins her boyfriend on a summer trip to a Swedish festival where things quickly go awry.