Image
1. The Luminous Dead by Caitlin Starling
Image
 When Gyre Price lied her way into this expedition, she thought she'd be mapping mineral deposits, and that her biggest problems would be cave collapses and gear malfunctions. She also thought that the fat paycheck—enough to get her off-planet and on the trail of her mother—meant she'd get a skilled surface team, monitoring her suit and environment, keeping her safe. Keeping her sane.
Instead, she got Em.
Em sees nothing wrong with controlling Gyre's body with drugs or withholding critical information to "ensure the smooth operation" of her expedition. Em knows all about Gyre's falsified credentials, and has no qualms using them as a leash—and a lash. And Em has secrets, too . . .
As Gyre descends, little inconsistencies—missing supplies, unexpected changes in the route, and, worst of all, shifts in Em's motivations—drive her out of her depths. Lost and disoriented, Gyre finds her sense of control giving way to paranoia and anger. On her own in this mysterious, deadly place, surrounded by darkness and the unknown, Gyre must overcome more than just the dangerous terrain and the Tunneler which calls underground its home if she wants to make it out alive—she must confront the ghosts in her own head. But how come she can't shake the feeling she's being followed?
My review:
Welcome to the most unreliable of unreliable narrators.
I burned through this book in the span of two evenings because I HAD to know what was going on. This book raises questions that you feel compelled to answer. Who can be trusted? How far would you go to get what you wanted? And perhaps the most important question: what exactly is out there in the dark? 
I highly recommend this book to anyone who loves suspense and just a little dash of horror with their Sci-Fi.
2. Kings of the Wyld by Nicholas Eames
Image
Clay Cooper and his band were once the best of the best -- the meanest, dirtiest, most feared crew of mercenaries this side of the Heartwyld.
Their glory days long past, the mercs have grown apart and grown old, fat, drunk - or a combination of the three. Then an ex-bandmate turns up at Clay's door with a plea for help. His daughter Rose is trapped in a city besieged by an enemy one hundred thousand strong and hungry for blood. Rescuing Rose is the kind of mission that only the very brave or the very stupid would sign up for.
It's time to get the band back together for one last tour across the Wyld.
My Review:
Kings of the Wyld is 550 pages of undiluted madcap high-fantasy hijinks. Epic swordfights and battles? Check. Hilarious misadventures? Check. Grizzled old men who learn that the real treasure was the friends they made along the way? Check, check, and check.
If playing Dungeons and Dragons with a group of inebriated friends who don't know the rules sounds like any kind of fun, this book is for you.
3. Senlin Ascends by Josiah Bancroft
Image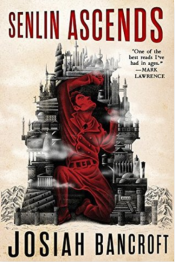 The Tower of Babel is the greatest marvel in the world. Immense as a mountain, the ancient Tower holds unnumbered ringdoms, warring and peaceful, stacked one on the other like the layers of a cake. It is a world of geniuses and tyrants, of airships and steam engines, of unusual animals and mysterious machines.
Soon after arriving for his honeymoon at the Tower, the mild-mannered headmaster of a small village school, Thomas Senlin, gets separated from his wife, Marya, in the overwhelming swarm of tourists, residents, and miscreants.
Senlin is determined to find Marya, but to do so he'll have to navigate madhouses, ballrooms, and burlesque theaters. He must survive betrayal, assassins, and the long guns of a flying fortress. But if he hopes to find his wife, he will have to do more than just endure.
This quiet man of letters must become a man of action.
My review:
Oh boy, there's a lot going on here.
This series is incredibly ambitious in scope. What starts as a simple premise - a man's journey to climb the Tower of Babel and rescue his wife - quickly transforms into an exploration of what it means to live as an ethical man in a fundamentally unethical system.
Social commentary and introspection into the nature of humanity; this is sci-fi at its finest.
4. All Systems Red by Martha Wells 
Image
"As a heartless killing machine, I was a complete failure."
In a corporate-dominated spacefaring future, planetary missions must be approved and supplied by the Company. Exploratory teams are accompanied by Company-supplied security androids, for their own safety.
But in a society where contracts are awarded to the lowest bidder, safety isn't a primary concern.
On a distant planet, a team of scientists are conducting surface tests, shadowed by their Company-supplied 'droid — a self-aware SecUnit that has hacked its own governor module, and refers to itself (though never out loud) as "Murderbot." Scornful of humans, all it really wants is to be left alone long enough to figure out who it is.
But when a neighboring mission goes dark, it's up to the scientists and their Murderbot to get to the truth.
My review:
I love Murderbot!
All Systems Red is the first in a series of novellas following Murderbot, an emotionally stunted android who just wants to be left alone so they can get caught up on their favorite soap operas. Unfortunately for Murderbot, it's hard not to come to care for the humans under your watch when they continue to do strange things like treat you with kindness, decency, and respect. Even though you're an unfeeling weapon of mass destruction gosh-darnit!
This series is funny, truly heartfelt, and stands as a fresh new take on the ramifications of Artificial Intelligence. 
5. The Supernatural Enhancements by Edgar Cantero
Image
When twentysomething A., the European relative of the Wells family, inherits a beautiful, yet eerie, estate set deep in the woods of Point Bless, Virginia, it comes as a surprise to everyone—including A. himself. After all, he never knew he had a "second cousin, twice removed" in America, much less that his eccentric relative had recently committed suicide by jumping out of the third floor bedroom window—at the same age and in the same way as his father had before him . . .

Together with A.'s companion, Niamh, a mute teenage punk girl from Ireland, they arrive in Virginia and quickly come to feel as if they have inherited much more than just a rambling home and an opulent lifestyle. Axton House is haunted... they know it...but the presence of a ghost is just the first of a series of disturbing secrets they slowly uncover. What led to the suicides? What became of the Axton House butler who fled shortly after his master died? What lurks in the garden maze – and what does the basement vault keep? Even more troubling, what of the rumors in town about a mysterious yearly gathering at Axton House on the night of the winter solstice?

Told vividly through a series of journal entries, cryptic ciphers, recovered security footage, and letters to a distant Aunt Liza, Edgar Cantero has written an absorbing, kinetic and highly original supernatural adventure with classic horror elements that introduces readers to a deviously sly and powerful new voice.
My review:
If Agatha Christie, Edgar Allen Poe, and John le Carré had a mysterious love-child, it would be this book. Ciphers, ghosts, and mysterious suicides that raise questions about the hereditary nature of mental health, oh my! Top it all off with an absolutely acrid sense of humor and some truly shocking plot twists for icing on the cake. This book is just downright good.  
6. The 7 1/2 Deaths of Evelyn Hardcastle by Stuart Turton
Image
The Rules of Blackheath
Evelyn Hardcastle will be murdered at 11:00 p.m.
There are eight days, and eight witnesses for you to inhabit.
We will only let you escape once you tell us the name of the killer.
Understood? Then let's begin...

Evelyn Hardcastle will die. Every day until Aiden Bishop can identify her killer and break the cycle. But every time the day begins again, Aiden wakes up in the body of a different guest. And some of his hosts are more helpful than others.
For fans of Claire North and Kate Atkinson, The 7½ Deaths of Evelyn Hardcastle is a breathlessly addictive novel that follows one man's race against time to find a killer— but an astonishing time-turning twist means that nothing and no one are quite what they seem.
My review:
Ok. I'm cheating. This book is technically classified as a mystery. BUT. Waking up every day Groundhog Day style in a new body is not something that happens in normal life so I'm standing by my choice here. I'm counting this book as fantasy and yes I will die on this hill if necessary.
Now, what can I say about this book other than it absolutely blew my mind. The author has taken a classic premise -a murder at an isolated mansion with a limited number of suspects- and transformed it into something I've never seen before. And it is so cool! Even if the mystery weren't incredibly compelling (which it is), the idea of waking up in a different body only to repeat the same day over and over again is so novel that this book would have drawn me in anyway.
Do yourself a solid and give it a shot.
7. The Rook by Daniel O'Malley
Image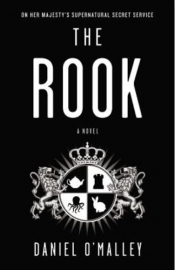 "The body you are wearing used to be mine." So begins the letter Myfanwy Thomas is holding when she awakes in a London park surrounded by bodies all wearing latex gloves. With no recollection of who she is, Myfanwy must follow the instructions her former self left behind to discover her identity and track down the agents who want to destroy her.

She soon learns that she is a Rook, a high-ranking member of a secret organization called the Chequy that battles the many supernatural forces at work in Britain. She also discovers that she possesses a rare, potentially deadly supernatural ability of her own.

In her quest to uncover which member of the Chequy betrayed her and why, Myfanwy encounters a person with four bodies, an aristocratic woman who can enter her dreams, a secret training facility where children are transformed into deadly fighters, and a conspiracy more vast than she ever could have imagined.
My review: 
Let me start by saying this book is hilarious. Anyone who appreciates the humor of Terry Pratchett or the Cornetto Trilogy is going to laugh their way through the whole book. In addition to absurd situations and dry humor, The Rook also presents a compelling mystery and truly fantastic world building. Finally, it stands as a heartfelt exploration into the ways childhood trauma can influence who we become as adults.
...But it really is funny at the same time I promise.
8. Trail of Lightning by Rebecca Roanhorse 
Image
While most of the world has drowned beneath the sudden rising waters of a climate apocalypse, Dinétah (formerly the Navajo reservation) has been reborn. The gods and heroes of legend walk the land, but so do monsters.
Maggie Hoskie is a Dinétah monster hunter, a supernaturally gifted killer. When a small town needs help finding a missing girl, Maggie is their last best hope. But what Maggie uncovers about the monster is much more terrifying than anything she could imagine.

Maggie reluctantly enlists the aid of Kai Arviso, an unconventional medicine man, and together they travel the rez, unraveling clues from ancient legends, trading favors with tricksters, and battling dark witchcraft in a patchwork world of deteriorating technology.

As Maggie discovers the truth behind the killings, she will have to confront her past if she wants to survive.

Welcome to the Sixth World.
My review: 
Trail of Lightning is non-stop, bullets and brain matter action from the word go. Make no mistake, Maggie Hoskie is a protagonist who can and will kick some serious butt. Add to that a skillful integration of Navajo legends with modern post-apocalyptic fantasy, and you have one epic rollercoaster of a book.
I am currently reading the sequel, Plague of Locusts, and I promise it only continues to get better. It's only a matter of time before this series takes its rightful place in mainstream modern fantasy.
9. Stars Uncharted by S.K. Dunstall
Image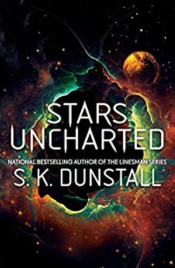 On this space jump, no one is who they seem . . .
Captain Hammond Roystan is a simple cargo runner who has stumbled across the find of a lifetime: the Hassim, a disabled exploration ship—and its valuable record of unexplored worlds.
His junior engineer, Josune Arriola, said her last assignment was in the uncharted rim. But she is decked out in high-level bioware that belies her humble backstory.
A renowned body-modification artist, Nika Rik Terri has run afoul of clients who will not take no for an answer. She has to flee off-world, and she is dragging along a rookie modder, who seems all too experienced in weapons and war . . .
Together this mismatched crew will end up on one ship, hurtling through the lawless reaches of deep space with Roystan at the helm. Trailed by nefarious company men, they will race to find the most famous lost world of all—and riches beyond their wildest dreams.
My review:
Throw a bunch of awkward misfits, a treasure map, and mortal danger into a spaceship and what do you get? A found family space opera for the ages.
Stars Uncharted is fun modern Sci-Fi that hits all the right buttons. Cool new tech? Yep. Epic space battles? Oh yeah. Crewmates with secrets who initially distrust one another but slowly come to think of each other as family because they decide to have each other's backs in a harsh world that would just as soon toss them aside? Why yes it does hit that highly specific button as well.
This book is peak escapism, and I highly recommend it to anyone who has an appreciation for classic Sci-Fi elements.
10. The Long Way to a Small, Angry Planet by Becky Chambers
Image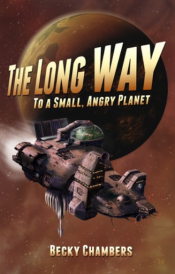 Follow a motley crew on an exciting journey through space—and one adventurous young explorer who discovers the meaning of family in the far reaches of the universe—in this light-hearted debut space opera from a rising sci-fi star.
Rosemary Harper doesn't expect much when she joins the crew of the aging Wayfarer. While the patched-up ship has seen better days, it offers her a bed, a chance to explore the far-off corners of the galaxy, and most importantly, some distance from her past. An introspective young woman who learned early to keep to herself, she's never met anyone remotely like the ship's diverse crew, including Sissix, the exotic reptilian pilot, chatty engineers Kizzy and Jenks who keep the ship running, and Ashby, their noble captain.
Life aboard the Wayfarer is chaotic and crazy—exactly what Rosemary wants. It's also about to get extremely dangerous when the crew is offered the job of a lifetime. Tunneling wormholes through space to a distant planet is definitely lucrative and will keep them comfortable for years. But risking her life wasn't part of the plan. In the far reaches of deep space, the tiny Wayfarer crew will confront a host of unexpected mishaps and thrilling adventures that force them to depend on each other. To survive, Rosemary's got to learn how to rely on this assortment of oddballs—an experience that teaches her about love and trust, and that having a family isn't necessarily the worst thing in the universe.
My review: 
Ok I will admit this last book is not exactly lesser known. If you're a fan of sci-fi there's a pretty good chance you've already read Becky Chambers' Wayfarer series. Because it's one of my favorite books of all time and no one can stop me though, I'm adding it here anyway!
Bottom line: Becky Chambers does aliens right. In the Wayfarer series, humans are only one of the many species that travel through deep space. Beings with different physiologies, different cultures, and different values are all just trying to make their way in the universe in the way they see best. Instead of highlighting how diverse mindsets can come into conflict though, Becky Chambers brilliantly illustrates how our differences can make us all better than the sum of our parts.