Image

Transgender Day of Remembrance (TDoR) takes place on Nov. 20 and honors those whose lives were lost in the previous year to anti-transgender violence.
The event was founded in 1999 by Gwendolyn Ann Smith to memorialize the murder of transgender woman Rita Hester in Allston, Massachusetts. It has since grown into an international event. Vigils are often hosted by local transgender or LGBTQ advocacy groups, and usually involve reading a list of the names of those lost that year.
During the reporting period for TDoR 2022, there were 339 deaths. You can view the international list here. The Trans Lives Matter website maintained a list of 62 lives lost in the United States and detailed information on each person. This information can be difficult to read, please practice self-care.
While TDoR largely focuses on those who were murdered, it is also important to recognize transgender and gender-diverse people who have died because of medical neglect, lack of access to shelter, suicide, and other preventable causes. This alarming rate of death continues to impact transgender and gender-diverse communities, especially Black transgender and gender-diverse communities, throughout the United States.
Below are some resources for transgender people, their loved ones and allies, and people who might not be sure what their gender identity is yet to celebrate, support, and care for transgender and gender-diverse people.
LOCAL RESOURCES
NATIONAL RESOURCES
Image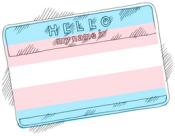 If you'd like to use a name other than your legal name on your library account, visit your local branch to speak with a staff member. Your name will appear on your library account, holds slips, and email communications. Documentation is not required to change the name on your account.
Our collection of transgender and gender-diverse books and media continues to grow. Check out some of our favorite titles below.
Please note that under Florida Statute 257.261, all Library District patron records are completely confidential. We will not give out your information or checkout history to anyone. If you are concerned about being outed by checking out any of these books, make sure you have all copies of your library card in your possession, your own email is on your patron account, and that you have changed your patron login information to something unique and secure.
Image

Image

Image

In strength and solidarity. 
Image