Here at the library, we love romance, and we know many of our patrons love romance as well. The Happy-Ever-Afters (HEAs), the variety of different tropes and genres within romance, and most of all, the variety of great writers means that there's a romance out there for everybody.
However, you probably know all about those romance shelves, with their eye-catching orange and red heart stickers on the spines. What you might not know is that there's a wealth of romance stories just a few shelves over, in the form of manga.
Manga, or comic books from Japan, have as many genres as the rest of the library combined, and in manga, romance is one of the biggest, most successful types of story. There's a wide variety of romance manga available, from sweet, to steamy, to fantastical. Just like the prose romance books offer a variety of different stories and concepts to entice any reader, romance manga has something for everybody.
We know not everyone's familiar with comic books, and some people aren't sure if they'll enjoy romance manga. That's exactly why we've created this list! We've rounded up a broad selection of excellent romance manga, sure to please everyone. Take a look through this list--we guarantee you'll find something that sparks your interest.
Image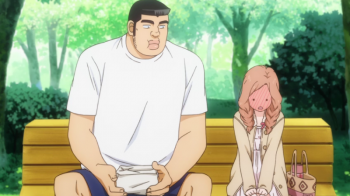 My Love Story!! by Kazuna Kawahara
Takeo Goda, a high school student with a giant frame and a soft heart, is used to being overshadowed by his more popular, more conventionally attractive best friend. When Goda saves a girl from being groped on the subway, he assumes she'd never fall for a giant guy like him. But petite Rinko Yamato sees Goda for who he truly is--her large, sweet prince.
A sweet romance about an unconventional male lead, this story is set in modern times, and features a lot of domestic fluff. There are 13 volumes of My Love Story!! currently available at the library.
Image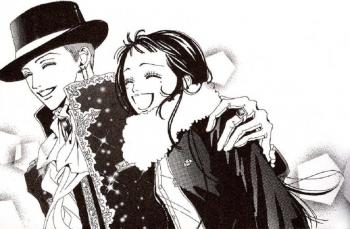 Yukari is a studious, dedicated high-school senior, studying for her college entrance exams--she doesn't even have time to consider why she feels so unhappy with her ordinary life. But a chance run-in with a glamorous, mysterious man named George introduces her to Paradise Kiss--a group of fashion design students working on a couture collection for their final school project. They ask Yukari to model their avant-garde fashions, and as she's unwillingly drawn into a world so unlike her own, Yukari starts to realize what it means to make your own choices.
Paradise Kiss is full of early-2000s alternative fashion, love triangles, and drama, with some sexual content. This manga will appeal who people who like bittersweet romances, unexpected endings, and beautifully drawn clothes. Paradise Kiss tells a complete story within five volumes, all available at the library.
Image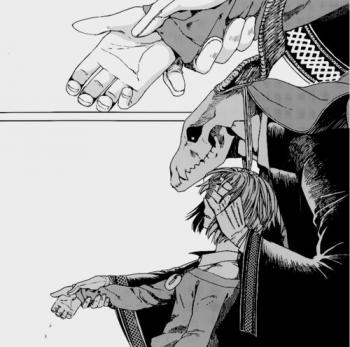 The Ancient Magus' Bride by Kore Yamazaki
In a fantastical world, Hatori Chise is being sold at a slave auction, and things aren't looking good...until she is purchased by the mysterious magus, Elias. Hundreds of years old and with an animal skull for a face, Elias introduces Chise to a world of magic, danger, and fae beings beyond her wildest dreams.
The Ancient Magus' Bride is a potent mix of beastly romance and fantasy adventure. If you like rich details, grim mysteries, and fabled destinies, this manga will surely appeal. We have 11 volumes available in print, and the first 4 volumes available as eBooks!
Image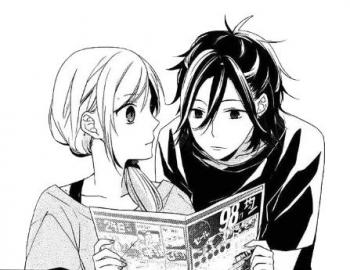 Horimiya by Hero and Daisuke Hagiwara
Everyone has a private side they don't let people see. Kyoko Hori likes being the popular girl in school, with flawless makeup and good grades; no one, not even her best friends, know that she has to spend all of her free time caring for her young brother. By pure accident, Hori learns that another student is hiding a big secret: Izumi Miyamura looks shy and bookish at school, but underneath the hair, he's got piercings, tattoos...and a devastatingly handsome face. Together, Hori and Miyamura will find that keeping their secret lives secret only becomes more complicated when you're falling in love.
Horimiya is a sweet, school-focused contemporary story about domestic life, keeping secrets, and school shenanigans. Readers will enjoy this manga if they like seeing unlikely couples, if they like sweet, light romance with just a touch of sexual tension, and if they like comedic stories. Horimiya has 15 volumes available at the library.
Image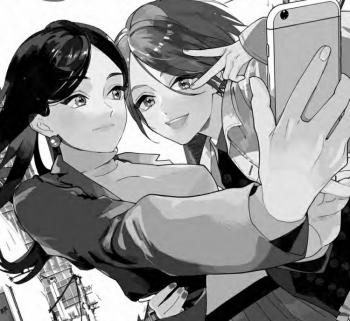 My Androgynous Boyfriend by Tamekō
Wako has her happily ever after--a job she loves, a good apartment, and a loving relationship with her boyfriend. What makes her life a little different is her boyfriend himself--a popular young model and a lover of fashion and makeup, Meguru is one of many young celebrities who enjoys dressing in beautiful clothes and defying the conventions of gender. They'll have to overcome a number of truly unique hurdles in their relationship together.
This manga is a cute, domestic story about an established relationship. This manga is good for romance lovers who enjoy seeing young lovers shop for furniture, go out on dates, and stories about the world of modeling. This story takes a gentle and humorous look at what it's like to have a very normal relationship, when one of the people involved defies expectations of gender. This manga currently has three volumes available at the library.
Image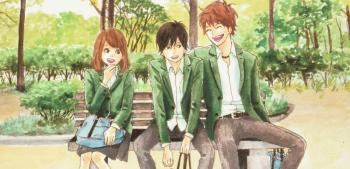 Naho Takimaya receives a truly unusual gift at the start of her new school year--a letter from her future self. The letter gives Naho detailed instructions about how to avoid her deepest regret: the suicide of fellow student and friend, Kakeru Naruse. Naho must decide whether to trust the instructions she's been given, or to forge her own path in the waning days of her high school career.
This manga is for those who love romance stories that are truly out of the box. This manga tackles topics like mental health, friendship, and human connection. Orange tells a complete story in two volumes, both of which are available at the library.
Image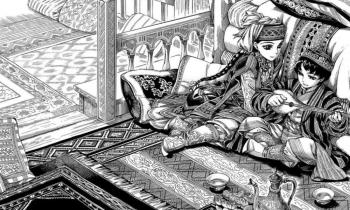 In Turkic Central Asia in the 19th century, Amira, a confident young woman from a nomadic tribe, comes to the city to enter an arranged marriage with Karluk, the 12-year-old son of a wealthy merchant. What unfolds is not a straightforward romance, but a rich story about the lives of women in Central Asia, and how marriage, romance, and the varied cultures of the region affect their livelihoods and happiness.
A Bride's Story is a good fit for those who like historical stories grounded in facts, and an evenly-balanced look at how women worked and survived in a historical period. Amir and Karluk's relationship, in the volumes currently published, is strictly nonsexual; some of the other romantic storylines feature sexual content and nudity. While Amir and Karluk's friends and family take up most of the volumes, there are a number of self-contained side stories, fleshing out the world. If you're looking for a beautifully illustrated book that isn't like anything you've ever seen before, delve into this series, which currently has 11 volumes.
Image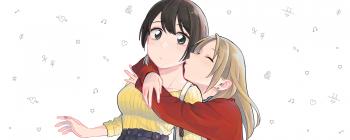 How Do We Relationship? by Tamifull
After moving from rural Japan to the big city for college, Miwa finally feels ready to come out as a lesbian and start dating. Miwa's shyness and inexperience, however, mean she's still struggling to be her true self. When fellow classmate Saeko suggests that they date so that Miwa can gain experience, the two very different girls find themselves falling for each other for real.
This manga is a sweet depiction of a modern, LGBTQ+ relationship in Japan, dealing with themes of coming out, homophobia, and misunderstandings in relationships. There is some sexual content in this manga. The library currently has two volumes.
Image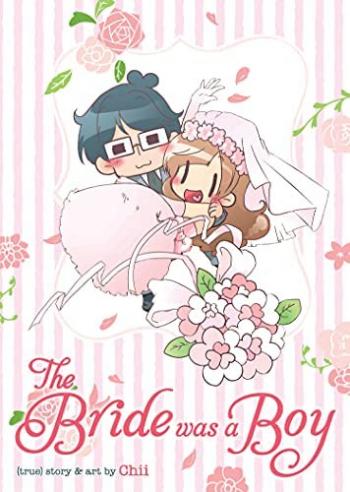 A true story of a transgender bride in Japan, Chii's memoir of her experiences transitioning, falling in love, and getting married is uniquely sweet and heartfelt. With helpful information on how transgender and gender-nonconforming Japanese citizens navigate their daily lives, Chii tells a triumphant tale of how she came to get her own happily-ever-after.
This book is a great read for those who like true romance stories, and are interested in grounded LGBTQ+ stories that are ultimately lighthearted.