Image

Image
In 2019, director Rian Johnson brought to screen an eclectic cast of characters in the murder mystery Knives Out, including one Benoit Blanc—played by Daniel Craig—a charming and witty detective who lays out the facts of the case in his signature Southern drawl.
For fans of a good, locked room whodunit in the style of Agatha Christie, it is a blast of a film with twists and turns and plenty of laughs. Director Rian Johnson himself is a fan of the British novelist, saying in a series of tweets, 
"Something I love about Agatha Christie is how she never tread water creatively. I think there's a misperception that her books use the same formula over and over, but fans know the opposite is true. It wasn't just settings or murder methods, she was constantly stretching the genre conceptually. Under the umbrella of the whodunit she wrote spy thrillers, proto-slasher horrors, serial killer hunts, gothic romances, psychological character studies, glam travelogues. When I made Knives Out, that's what excited me about the prospect of making more mysteries with Daniel as Benoit Blanc - to emulate Christie and have every film be like a whole new book, with its own tone, ambition, reason for being… and (ta dah) title. Benoit Blanc's next case, the follow up to Knives Out, is called GLASS ONION."
Detective Benoit Blanc returns in Glass Onion: A Knives Out Mystery. Tech billionaire Miles Bron invites his friends and fellow "disruptors" to a getaway on his private Greek island. When someone is murdered, Blanc is put on the case. 
If you've watched both films and are craving more thrilling murder mysteries and puzzling out clues, we've got you covered with a list of read-alikes and watch-alikes—and, of course, we included Agatha Christie. 
Find more read-alikes for authors and series with NoveList Plus. NoveList Plus is a free resource accessible with your library card and connects you to your next book by making recommendations for what to read next. 
Don't have Netflix? Check Knives Out on DVD from our catalog. 
Do you love a good true crime whodunit? Join the My Favorite Crime Book Club and participate in monthly discussions of true crime titles. Meetings are scheduled for the second Sunday of the Month at 2 p.m. in the Foundation Room at the Headquarters Library.
Read-Alikes
Image
The Crooked House by Agatha Christie
In the sprawling, half-timbered mansion in the affluent suburb of Swinly Dean, Aristide Leonides lies dead from barbiturate poisoning.
An accident? Not likely.
In fact, suspicion has already fallen on his luscious widow, a cunning beauty fifty years his junior, set to inherit a sizeable fortune, and rumored to be carrying on with a strapping young tutor comfortably ensconced in the family estate. But criminologist Charles Hayward is casting his own doubts on the innocence of the entire Leonides brood. He knows them intimately. And he's certain that in a crooked house such as Three Gables, no one's on the level...
Image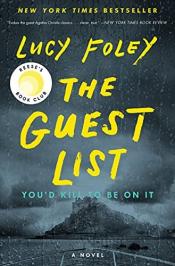 On an island off the coast of Ireland, guests gather to celebrate two people joining their lives together as one. The groom: handsome and charming, a rising television star. The bride: smart and ambitious, a magazine publisher. It's a wedding for a magazine, or for a celebrity: the designer dress, the remote location, the luxe party favors, the boutique whiskey. The cell phone service may be spotty and the waves may be rough, but every detail has been expertly planned and will be expertly executed.

But perfection is for plans, and people are all too human. As the champagne is popped and the festivities begin, resentments and petty jealousies begin to mingle with the reminiscences and well wishes. The groomsmen begin the drinking game from their school days. The bridesmaid not-so-accidentally ruins her dress. The bride's oldest (male) friend gives an uncomfortably caring toast.

And then someone turns up dead. Who didn't wish the happy couple well? And perhaps more important, why? 
Image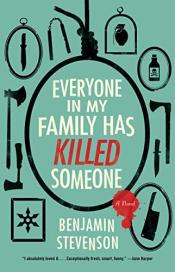 Everyone in my Family has Killed Someone by Benjamin Stevenson
Everyone in my family has killed someone. Some of us, the high achievers, have killed more than once. I'm not trying to be dramatic, but it is the truth. Some of us are good, others are bad, and some just unfortunate.

I'm Ernest Cunningham. Call me Ern or Ernie. I wish I'd killed whoever decided our family reunion should be at a ski resort, but it's a little more complicated than that.

Have I killed someone? Yes. I have.

Who was it?

Let's get started.

Everyone in my family has killed someone: My brother, my stepsister, my wife, my father, my mother, my sister-in-law, my uncle, my stepfather, my aunt, and me.
Image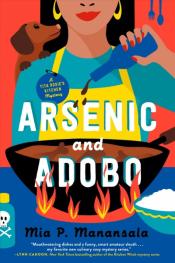 Arsenic and Adobo by Mia P. Manansala
When Lila Macapagal moves back home to recover from a horrible breakup, her life seems to be following all the typical rom-com tropes. She's tasked with saving her Tita Rosie's failing restaurant, and she has to deal with a group of matchmaking aunties who shower her with love and judgment. But when a notoriously nasty food critic (who happens to be her ex-boyfriend) drops dead moments after a confrontation with Lila, her life quickly swerves from a Nora Ephron romp to an Agatha Christie case.

With the cops treating her like she's the one and only suspect, and the shady landlord looking to finally kick the Macapagal family out and resell the storefront, Lila's left with no choice but to conduct her own investigation. Armed with the nosy auntie network, her barista best bud, and her trusted Dachshund, Longanisa, Lila takes on this tasty, twisted case and soon finds her own neck on the chopping block…
Image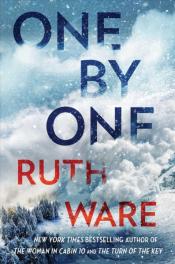 Getting snowed in at a beautiful, rustic mountain chalet doesn't sound like the worst problem in the world, especially when there's a breathtaking vista, a cozy fire, and company to keep you warm. But what happens when that company is eight of your coworkers…and you can't trust any of them?

When an off-site company retreat meant to promote mindfulness and collaboration goes utterly wrong when an avalanche hits, the corporate food chain becomes irrelevant and survival trumps togetherness. Come Monday morning, how many members short will the team be?
Image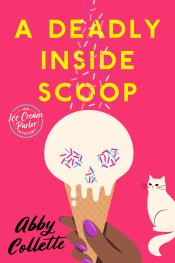 A Deadly Inside Scoop by Abby Collette
This book kicks off a charming cozy mystery series set in an ice cream shop—with a fabulous cast of quirky characters. 
Recent MBA grad Bronwyn Crewse has just taken over her family's ice cream shop in Chagrin Falls, Ohio, and she's going back to basics. Win is renovating Crewse Creamery to restore its former glory, and filling the menu with delicious, homemade ice cream flavors—many from her grandmother's original recipes. But unexpected construction delays mean she misses the summer season, and the shop has a literal cold opening: the day she opens her doors an early first snow descends on the village and keeps the customers away. To make matters worse, that evening, Win finds a body in the snow, and it turns out the dead man was a grifter with an old feud with the Crewse family. Soon, Win's father is implicated in his death. It's not easy to juggle a new-to-her business while solving a crime, but Win is determined to do it. With the help of her quirky best friends and her tight-knit family, she'll catch the ice cold killer before she has a meltdown...
 
Image
The Thursday Murder Club by Richard Osman
In a peaceful retirement village, four unlikely friends meet up once a week to investigate unsolved murders.

But when a brutal killing takes place on their very doorstep, the Thursday Murder Club find themselves in the middle of their first live case. Elizabeth, Joyce, Ibrahim and Ron might be pushing eighty but they still have a few tricks up their sleeves.

Can our unorthodox but brilliant gang catch the killer before it's too late?
Image
The Eighth Detective by Alex Pavesi
There are rules for murder mysteries. There must be a victim. A suspect. A detective. The rest is just shuffling the sequence. Expanding the permutations. Grant McAllister, a professor of mathematics, once sat down and worked them all out—calculating the different orders and possibilities of a mystery into seven perfect detective stories he quietly published. But that was thirty years ago. Now Grant lives in seclusion on a remote Mediterranean island, counting the rest of his days.

Until Julia Hart, a sharp, ambitious editor knocks on his door. Julia wishes to republish his book, and together they must revisit those old stories: an author hiding from his past, and an editor, keen to understand it.

But there are things in the stories that don't add up. Inconsistencies left by Grant that a sharp-eyed editor begins to suspect are more than mistakes. They may be clues, and Julia finds herself with a mystery of her own to solve.
Watch-Alikes
Image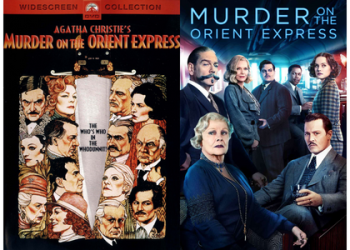 Murder on the Orient Express (1974)
Murder on the Orient Express (2018)
Image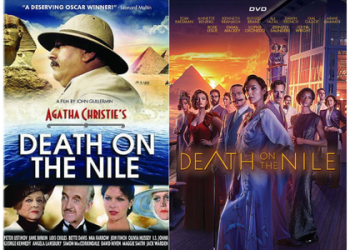 Image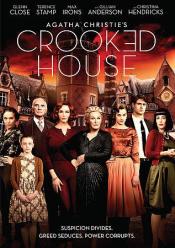 Image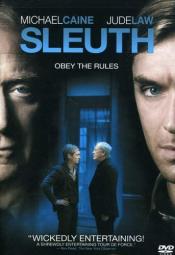 Image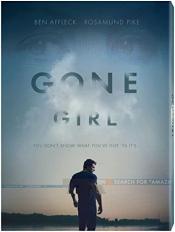 Image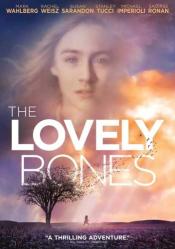 Descriptions adapted from the publisher.