Image

Do you love a good whodunit? Join others who have a similar interest in true crime at our book club! Each month we will read and discuss a true crime title from the library's collection. Meetings are scheduled for the 2nd Sunday of the Month at 2 p.m. in the Foundation Room at the Headquarters Library.
Book club copies of the current title will be available for checkout at the Headquarters Library Reference Desk on a first-come, first-served basis. To confirm availability, please call 352-334-3940 or email Sabrina. We will also try to make copies available in eBook/eAudiobook formats on Libby whenever possible.
Image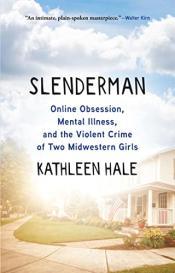 Slenderman: Online Obsession, Mental Illness, and the Violent Crime of Two Midwestern Girls by Kathleen Hale
Sunday, April 16* at 2 p.m. | Headquarters Library - Foundation Room
"On May 31, 2014, in the Milwaukee suburb of Waukesha, Wisconsin, two twelve-year-old girls attempted to stab their classmate to death. Morgan Geyser and Anissa Weier's violence was extreme, but what seemed even more frightening was that they committed their crime under the influence of a figure born by the internet: the so-called "Slenderman." Yet the even more urgent aspect of the story, that the children involved suffered from undiagnosed mental illnesses, often went overlooked in coverage of the case.
Slenderman: Online Obsession, Mental Illness, and the Violent Crime of Two Midwestern Girls tells that full story for the first time in deeply researched detail, using court transcripts, police reports, individual reporting, and exclusive interviews. Morgan and Anissa were bound together by their shared love of geeky television shows and animals, and their discovery of the user-uploaded scary stories on the Creepypasta website could have been nothing more than a brief phase. But Morgan was suffering from early-onset childhood schizophrenia. She believed that she had seen Slenderman long before discovering him online, and the only way to stop him from killing her family was to bring him a sacrifice: Morgan's best friend Payton "Bella" Leutner, whom Morgan and Anissa planned to stab to death on the night of Morgan's twelfth birthday party. Bella survived the attack, but was deeply traumatized, while Morgan and Anissa were immediately sent to jail, and the severity of their crime meant that they would be prosecuted as adults. There, as Morgan continued to suffer from worsening mental illness after being denied antipsychotics, her life became more and more surreal." (Amazon)
Upcoming Meetings
May 14th - The Forever Witness by Edward Humes
June 11th - Vanished in Vermillion by Lou Raguse
July 9 - Title TBA
August 13 - Title TBA
You can also take a look at what true crime titles we currently have in our library's collection. To catch up on past book club titles, check out this list.
Interested in other book clubs? The Alachua County Library District has several. You can find more information on our Book Clubs page.
*April meeting rescheduled due to the Library being closed for Easter