Louise Glück was born on April 22, 1943, in New York City and grew up on Long Island. She attended Sarah Lawrence College and Columbia University, and besides being one of this country's most talented contemporary poets, she's the Rosenkranz writer-in-residence at Yale University and an adjunct English professor.
She is the author of 12 books of poems and collection of essays, and as stated by the Poet's Foundation, "she is known for her poetry's technical precision, sensitivity, and insight into loneliness, family relationships, divorce, and death.
As a poet, Louise Glück has received many of the major literary awards including the Pulitzer Prize, National Humanities Medal, National Book Award, National Book Critics Circle Award, Bollingen Prize, and now the Nobel Prize for Literature.
William Logan, in a 2009 New York Times review of "A Village Life," called Glück "perhaps the most popular literary poet in America." Her audience may not be as large as others', he wrote, but "part of her cachet is that her poems are like secret messages for the initiated." Also, the poet Dan Chiasson wrote in The New Yorker that "her poems are flash bulletins from her inner life, a region that she examines unsparingly."
The Norwegian Nobel Committee, in describing Louise Glück, stated that she has, "an unmistakable poetic voice that with austere beauty makes individual existence universal."
Louise Glück's love of language and narrative started at an early age and as a teen, she began to submit poems to magazines and publishers. Her first collection of poems, First Born, was published in 1968, and she has consistently published works of poetry in a career that spans over 50 years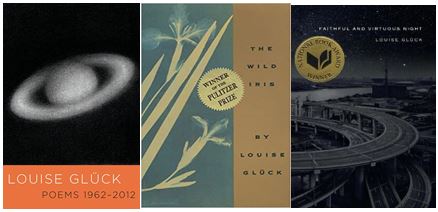 now.
She says that "writing is a kind of revenge against circumstance, bad luck, loss, and pain."
To read the poems of Louise Glück, this year's recipient of the Nobel Prize for Literature, feel free to browse the ACLD collection for her work and take advantage of our curbside services. 
Also, read more about this poet and a list of her entire body of work from
The Academy of American Poets and The Poetry Foundation's website.
A list of her complete work: 
Poetry: Faithful and Virtuous Night (Farrar, Straus and Giroux, 2014), Poems: 1962-2012 (Farrar, Straus, and Giroux, 2013), A Village Life (Farrar, Straus, and Giroux, 2009), Averno (Farrar, Straus, and Giroux, 2006), The Seven Ages (Ecco Press, 2001), Vita Nova (Ecco Press, 1999), Meadowlands (Ecco Press, 1996), The First Four Books of Poems (Ecco Press, 1995), The Wild Iris (Ecco Press, 1992), Ararat (Ecco Press, 1990), The Triumph of Achilles (Ecco Press, 1985), Descending Figure (Ecco Press, 1980), The Garden (Antaeus, 1976), The House on Marshland (Ecco Press, 1975), Firstborn (New American Library, 1968)  Prose: Proofs and Theories: Essays on Poetry (The Ecco Press, 1994), American Originality: Essays on Poetry (Farrar, Strauss and Giroux, 2017)