Image
Image

Image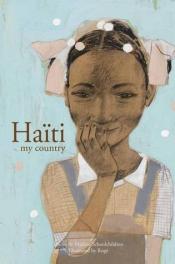 Haiti My Country: Poems by Haitian schoolchildren [2011]
Setting: Haiti
Age range: 10-13 years
Pretty flowers in my country are for me
Like pink butterflies
That smile at the sun
- Judes-Roldes
For several months, Quebec illustrator Rogé prepared a series of portraits of Haitian children. Students of Camp Perrin wrote the accompanying poems, which create, with flowing consistency, Haiti, my country.
These teenaged poets use the Haitian landscape as their easel. The nature that envelops them is quite clearly their main subject.
While misery often storms through Haiti in the form of earthquakes, cyclones, or floods, these young men and women see their surrounding nature as assurance for a joyful, confident future.
Image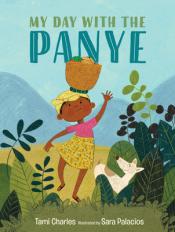 My Day with the Panye by Tami Charles [2021]
Setting: Haiti
Age range: 5-9 years
"To carry the panye, we move gracefully, even under the weight of the sun and the moon."

In the hills above Port-au-Prince, a young girl named Fallon wants more than anything to carry a large woven basket to the market, just like her Manman. As she watches her mother wrap her hair in a mouchwa, Fallon tries to twist her own braids into a scarf and balance the empty panye atop her head, but realizes it's much harder than she thought. BOOM! Is she ready after all? Lyrical and inspiring, with vibrant illustrations highlighting the beauty of Haiti, My Day with the Panye is a story of family legacy, cultural tradition, and hope for the future. Readers who are curious about the art of carrying a panye will find more about this ancient and global practice in an author's note at the end.
Image

Image
Miss Quinces by Kat Fajardo [2022]
Setting: Honduras
Suggested age range: 8-12 years
Sue just wants to spend the summer reading and making comics at sleepaway camp with her friends, but instead she gets stuck going to Honduras to visit relatives with her parents and two sisters. They live way out in the country, which means no texting, no cable, and no Internet! The trip takes a turn for the worse when Sue's mother announces that they'll be having a surprise quinceañera for Sue, which is the last thing she wants. She can't imagine wearing a big, floofy, colorful dress! What is Sue going to do? And how will she survive all this "quality" time with her rambunctious family? 
Image
Image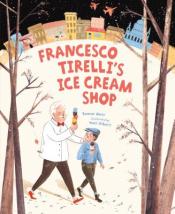 Francesco Tirelli's Ice Cream Shop by Tamar Meir [2019]
Setting: Hungary
Suggested age range: 8-12 years
Francesco Tirelli loved to eat gelato from his uncle's cart. So when he moves from Italy to Hungary, Francesco decides to open his own ice cream store. There young Peter learns to love ice cream as much as Francesco did. But when the war comes and Francesco closes his shop for the winter, he uses the shop for a special purpose--to hide his Jewish friends and neighbors from danger. This heroic tale is based on true events. 
Image
Image
Tamarind & the Star of Ishta by Jasbinder Bilan [2020]
Setting: India
Suggested age range: 8-12 years
From the author of the Costa Award-winning Asha & the Spirit Bird comes a breathtaking, magical adventure...Tamarind never knew her Indian mum, Chinty, who died soon after she was born. So when she arrives at her ancestral home, a huge mansion in the Himalayas surrounded by luxuriant gardens, she's full of questions for her extended family. But instead of answers, she finds an ominous silence - and a trickle of intriguing clues: an abandoned hut, a friendly monkey, a glowing star ring, and a strange girl in the garden who calls herself Ishta. Slowly, Tamarind unravels a mystery at the heart of who she is... 
Image
Setting: India
Suggested age range: 10-12 years
Minni lives in the poorest part of Mumbai, where access to water is limited to a few hours a day and the communal taps have long lines. Lately, though, even that access is threatened by severe water shortages and thieves who are stealing this precious commodity—an act that Minni accidentally witnesses one night. Meanwhile, in the high-rise building where she just started to work, she discovers that water streams out of every faucet and there's even a rooftop swimming pool. What Minni also discovers there is one of the water mafia bosses. Now she must decide whether to expose him and risk her job and maybe her life. How did something as simple as access to water get so complicated?
Image

Image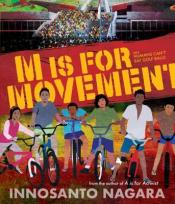 M Is for Movement by Innosanto Nagara [2019]
Setting: Indonesia 
Suggested age range: 8-12 years
Here is the story of the social movement that bestselling children's book author and illustrator Innosanto Nagara witnessed as a child growing up in Jakarta and how it overturned the government of Indonesia. People, everyday people, were not happy with their government. At first the protests were at the universities. But then they spread. People drew sustenance from other social movements in other countries. And then the unthinkable happened. The protagonist in this fictionalized children's memoir is a witness and a participant, fearful sometimes, brave sometimes too, and by the time change comes, this child who is now an adult, is as surprised as anyone.
Image
Image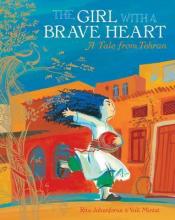 The Girl with a Brave Heart by Rita Jahanforuz [2013]
Setting: Iran
Suggested age range: 4-10 years
After showing kindness to a strange old woman, Shiraz receives the gift of beauty but her lazy and unkind stepsister, Nargues, suffers a less pleasant fate in this adaptation of the Grimm's fairy tale, Mother Hulda, reset in Tehran, Iran.
Image
A Persian Passover by Etan Basseri [2022]
Setting: Iran
Suggested age range: 4-8 years
Ezra and Roza are helping to prepare for their family's Passover celebration. Ezra is proud to be in charge of bringing his family's flour to the synagogue to be baked into matzah in a traditional wood-burning oven. But when he falls and the matzah is ruined, what will he and his sister, Roza, do? Join the siblings as they experience the sights, smells, sounds, and unique traditions of a seder in Iran of the 1950s.
Image
Image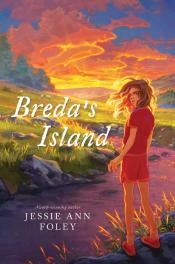 Breda's Island by Jessie Ann Foley [2022]
Setting: Ireland
Suggested age range: 8-12 years
The first middle grade novel from award-winning author Jessie Ann Foley is a story of broken family ties and the journey one girl must take to find herself. Perfect for fans of When You Trap a Tiger and Shouting at the Rain.

After Breda Moriarity gets caught stealing one too many times, Breda's mom sends her to Ireland—a place she has never been—to live with the grandfather she has never met.

While Breda doesn't want to be in this strangely beautiful land, she finally gets to meet her granda, her mom's father. He's a grumpy farmer who is also a seanchaí, a traditional Gaelic storyteller. But the most important story to Breda is the one nobody will talk about: what happened to her absent father. If nothing else this summer, Breda is determined to figure out the truth about her family's history—and herself.

This powerfully poignant middle grade novel asks important questions about immigration, estranged relationships, and family secrets.
Image
The Storm Keeper trilogy by Catherine Doyle 
     - The Storm Keeper's Island [2018]
     - The Lost Tide Warriors [2019]
     - The Storm Keepers' Battle [2021]
Setting: Ireland 
Suggested age range: 8-11 years
When Fionn Boyle sets foot on Arranmore Island, it begins to stir beneath his feet ...

Once in a generation, Arranmore Island chooses a new Storm Keeper to wield its power and keep its magic safe from enemies. The time has come for Fionn's grandfather, a secretive and eccentric old man, to step down. Soon, a new Keeper will rise.

But, deep underground, someone has been waiting for Fionn. As the battle to become the island's next champion rages, a more sinister magic is waking up, intent on rekindling an ancient war.
Image
Image
Renato and the Lion by Barbara DiLorenzo [2017]
Setting: Italy
Suggested age range: 5-7 years
Renato loves his home in Florence, Italy. He loves playing with his friends in the Piazza della Signoria. He loves walking home by the beautiful buildings and fountains with his father in the evenings. And he especially loves the stone lion who seems to smile at him from a pedestal in the piazza. The lion makes him feel safe.

But one day his father tells him that their family must leave. Their country is at war, and they will be safer in America. Renato can only think of his lion. Who will keep him safe? 
Image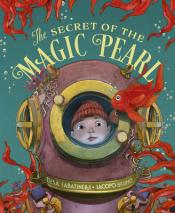 The Secret of the Magic Pearl by Elisa Sabatinelli & Iacopo Bruno [2021]
Setting: Italy
Suggested age range: 6-10 years
Dive below the waves to where the real adventure begins. Hector lives with his family at the Marina in an Italian coastal town where they organize tourist expeditions to explore the many wonders of the sea. Hector's dream is to become a deep-sea diver, just like his father. Then, one day, an unscrupulous entrepreneur opens a much newer center next door, forcing them to close their business. This man has a single purpose, to find the legendary Pearl in order to sell it and make money. Hector decides to find a way to thwart the plan and save what matters most to him: the sea, his family, and his dream.
Image
Image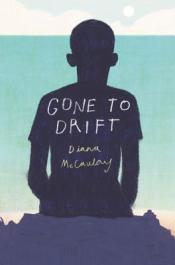 Gone to Drift by Diana McCaulay [2016]
Setting: Jamaica
Suggested age range: 8-12 years
From award-winning Jamaican author Diana McCaulay, Gone to Drift is a powerful voice-driven middle grade novel about family set in Jamaica.

Lloyd comes from a long line of fishermen. Growing up in Kingston, Jamaica, Lloyd feels most at home with the sea and his grandfather, Maas Conrad, at his side.

When his grandfather doesn't return from a fishing trip, Lloyd fears he has gone to drift. The sea may be in Lloyd's blood, but as he searches for his grandfather, he discovers a side of the ocean—and the people who use it—that he's never known before.

Told in the alternating voices of Lloyd and Maas Conrad, Gone to Drift is a moving story of family, courage, and the wonders of the oceans we call home.
Image
Granny's Kitchen: A Jamaican Story of Food and Family by Sade Smith [2022]
Setting: Jamaica
Suggested age range: 3-6 years
Accompanied by Ken Daley's vibrant, sun-soaked artwork, Sadé Smith's debut picture book Granny's Kitchen is the perfect readaloud for budding chefs everywhere.

Shelly-Ann lives with her Granny on the beautiful island of Jamaica. When Shelly-Ann becomes hungry, she asks her Granny for something to eat. Granny tells her "Gyal, you betta can cook!" and teaches Shelly-Ann how to get in touch with her Jamaican roots through the process of cooking.

As Shelly-Ann tries each recipe, everything goes wrong. But when Granny is too tired to cook one morning, Shelly-Ann will have to find the courage to try one more time and prepare the perfect Jamaican breakfast.
 
Image
Image
How Do You Live? by Genzaburo Yoshino [1937]
Setting: Japan
Suggested age range: 10-14 years
How Do You Live? is narrated in two voices. The first belongs to Copper, fifteen, who after the death of his father must confront inevitable and enormous change, including his own betrayal of his best friend. In between episodes of Copper's emerging story, his uncle writes to him in a journal, sharing knowledge and offering advice on life's big questions as Copper begins to encounter them. Over the course of the story, Copper, like his namesake Copernicus, looks to the stars, and uses his discoveries about the heavens, earth, and human nature to answer the question of how he will live.

This first-ever English-language translation of a Japanese classic about finding one's place in a world both infinitely large and unimaginably small is perfect for readers of philosophical fiction like The Alchemist and The Little Prince, as well as Miyazaki fans eager to understand one of his most important influences.
Image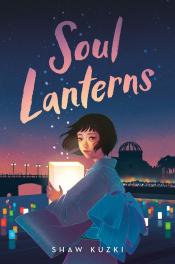 Soul Lanterns by Shaw Kuzki [2021]
Setting: Japan
Suggested age range: 10-12 years
The haunting and poignant story of a how a young Japanese girl's understanding of the historic and tragic bombing of Hiroshima is transformed by a memorial lantern-floating ceremony.

Twelve-year-old Nozomi lives in the Japanese city of Hiroshima. She wasn't even born when the bombing of Hiroshima took place. Every year Nozomi joins her family at the lantern-floating ceremony to honor those lost in the bombing. People write the names of their deceased loved ones along with messages of peace, on paper lanterns and set them afloat on the river. This year Nozomi realizes that her mother always releases one lantern with no name. She begins to ask questions, and when complicated stories of loss and loneliness unfold, Nozomi and her friends come up with a creative way to share their loved ones' experiences. By opening people's eyes to the struggles they all keep hidden, the project teaches the entire community new ways to show compassion.

Soul Lanterns is an honest exploration of what happened on August 6, 1945, and offers readers a glimpse not only into the rich cultural history of Japan but also into the intimate lives of those who recognize--better than most--the urgent need for peace.
Looking for more? Check out our previous installment here:
Around the World in Children's Books: A - C
Around the World in Children's Books: D - G
All book descriptions adapted from publisher