Image

Before she started singing, nobody in Jernie's family was musical. Her passion and natural talent soon made them take notice, and began investing in her. Her grandfather encouraged her to learn the national anthem as a 5-year-old, giving her $20 for him to record her and send it off to hopefully allow her to sing at a Miami football game. She never did, but she ended up singing in her hometown region of Vero Beach, and then also for the Florida Marlins and New York Mets at Shea Stadium.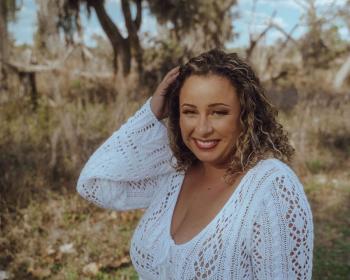 Growing up, Jernie was constantly exploring the children's section of her small neighborhood library building up a curiosity towards life and expanding her perspectives, "open[ing] a whole world of creativity and art that [one] can't imagine until you're there." Jernie's creative philosophy contains valuable advice for all who seek to create:
"It doesn't have to be perfect, it doesn't have to be great. The point is just to create. And for yourself, who cares about whether anybody else's creation is meaningful in itself? It should be meaningful to you. And it doesn't have to be great. And even if it is great, there are places and people who will listen to you and love you for it and respect you and show up to your shows, and we'll create with you."
Jernie's debut EP "Different Sun" combines themes of nature, connection, and being present, open, and honest. Her songs span a musical mix of genres including R&B, coffee house, folk, and jazz. Jernie's EP contains four songs, three of which are co-written with friend and collaborator, Nick Mendez. Additional notable credits include production by Raphael Llana and Jahirah Williams, with mixing and mastering by Danny Clifton. The EP was recorded at Pulp Arts in Gainesville and funded by a MusicGNV grant. As a musical "scrapbook of this moment of time" in her life, Jernie wanted to collaborate with local friends- musicians who she respects and is proud of for both their talent and humanity.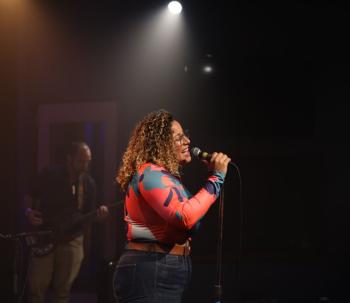 As someone living in Gainesville without the bias of having grown up here, Jernie sincerely appreciates the musical history and community here. From folk and "hippie vibes" to rock and punk, Tom Petty is only one of many who have contributed to Gainesville's musical legacy. Jernie credited the venues and community here for building Gainesville into a safe space for musicians and their fans. In ending our interview, I signed her up for a library card so she could check out the copy of Matt Walker's Gainesville Punk: A History of Bands & Music that I happened to have sitting on my desk. 
Our conversation on libraries spanned from children's books at public libraries to the academic broadside collection at the Center for Popular Music at her alma mater, Middle Tennessee State University. Learning about broadsides, which were created and mailed out for communities to have access to informational sheet music of popular and traditional music, expanded her awareness of the plethora of resources libraries hold. Not everyone recognizes the significance of community resources such as library collections to music venues, but by participating in local community-building events, we can protect our history and spaces for the generations to come.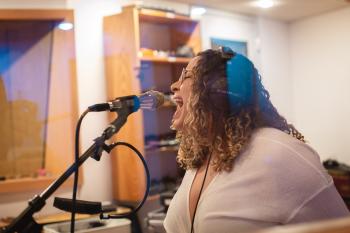 "I love to see more people at different shows that they aren't used to seeing, or hearing and just exposing themselves to it. And it's kind of like the library. You don't know what you don't know, so you should show up and give it a shot and learn some new things - because you'll probably enjoy it." 
Jernie's debut EP "Different Sun" will be out May 5 and coincides with a release show at the Heartwood Soundstage at 7pm.
Thanks to community partner MusicGNV for connecting the Alachua County Library District to local artists for this blog series! Read past editions here about Sky Luca$, MADWOMAN, and Israel Jones.
Photos used with permission by the artist.
Upcoming programs for teen musicians at our Tower Road Branch:
Check out these recommendations from Jernie:
Descriptions adapted from the publisher.