Regular Hours
| Day | Hours |
| --- | --- |
| Monday | 10 a.m. - 6 p.m. |
| Tuesday | 10 a.m. - 7 p.m. |
| Wednesday | 10 a.m. - 7 p.m. |
| Thursday | 10 a.m. - 7 p.m. |
| Friday | 10 a.m. - 6 p.m. |
| Saturday | 10 a.m. - 5 p.m. |
| Sunday | 12 - 5 p.m. |
Amenities
Image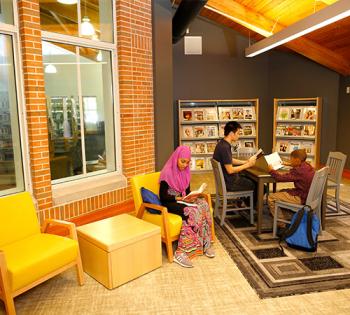 Snuggle-Up Center
Quiet Reading Room 
FoodieSpace
Wi-Fi
Learn more about the Tower Road Branch
Image

The patrons of the Tower Road Branch come from all walks of life.  Each day we get to work with diverse members of our community in rewarding ways.  From Story Times that help young children learn literacy skills, to assisting a senior set up their Libby account for accessing downloadable audiobooks, library staff are committed to helping our community thrive.
- Carolyn Wallace, Senior Library Manager, Tower Road Branch
Construction on the Tower Road Branch, located at 3020 S.W. 75th St. Gainesville, FL 32608 began in 1991 just after the Headquarters Library finished the move to its current location.
The Tower Road Branch and Millhopper Branch were conceptualized as sister libraries that would help expand services to the citizen of Alachua County in the Southwest and Northwest respectively. In fact, both branches held their grand openings on November 21, 1992 and, when initially constructed, both branches contained 15,000 square feet and sported identical building designs. 
Image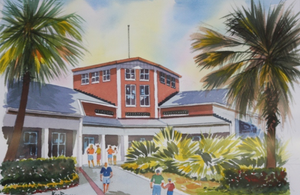 As you can imagine, over the years the needs of staff and patrons changed and the buildings changed with them.
In January 2016 construction began on a total renovation and expansion of the Tower Road Branch. In a effort to reduce disruptions to crucial library services during the renovation, a temporary modular building was installed in the parking lot so staff could continue to serve patrons. The affectionately nicknamed, "Pod" library held a reduced number of materials, computers, and staff. Though the Pod did have a small Study Room, space was so limited that programming just wasn't possible but patrons were still able to: use library computers, use printers/copiers, get new library cards, check out and return materials, pick up holds, and receive reference assistance from helpful library staff.
Image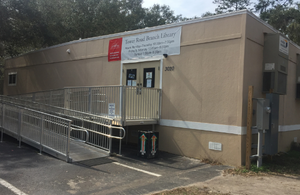 While the Pod may have been a bit of an inconvenience, the renovation was well worth the wait! In February of 2018 the Tower Road Branch opened its doors with a fresh, new design that embraced a modern and more streamlined aesthetic. The renovation also added an expanded meeting room with a kitchen, a larger children's area including new restrooms, an outdoor space for special events, a garden area for programs and support for the Seed Library, a Teen Space, a Quiet Reading Room, three Study Rooms, and an expanded staff work area. The building now boasts a beautiful 23,500 square feet!
In the new building, staff are able to provide better services than ever before and the growing population of Southwest Gainesville, continues to show its appreciation. The Tower Road Branch has seen a steady increase in visitors throughout the years and recently, it has become the second busiest location just behind the Millhopper Branch, in terms of both visitors and item check outs. 
Image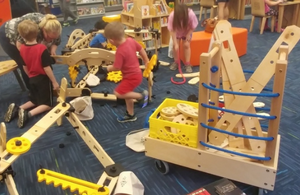 The Southwest location also provides an excellent location for services to the local public and private schools. The Tower Road Branch is proud to serve teachers, students, and parents from Kanapaha Middle, Wiles Elementary, Chiles Elementary, The Rock School, Queen of Peace Academy, and Oak Hall School and is looking forward to working with Terwilliger Elementary at its new location. As the library continues to safely move out of our COVID-19 precautions, schools can look forward to outreach visits along with fun and exciting library programs such as STEM/STEAM programming, creative crafting, book clubs, and story times! 
In an effort to leave no patron behind and no need unanswered, the Tower Road Branch also frequently partners with South West Advocacy Group (SWAG), University of Florida (HealthStreet, Mobile Outreach Clinic), the Alachua County Supervisor of Elections for early and election day voting, AARP Foundation for Tax-Aide programs, LifeSouth for bloodmobile visits, and the Suwannee River Area Health Education Center (SRAHEC) for tobacco cessation and Health Care Marketplace Navigators.
Staff are truly proud of the diverse partnerships maintained in order to bring critical services to the community! 
Image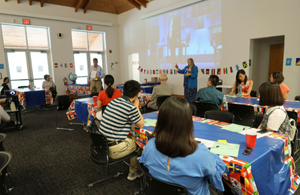 In fact, the Tower Road Branch's commitment to assisting patrons from all backgrounds is exemplified by one of the most popular Alachua County Library District programs; the Conversational English Program. Starting in 2011 the Conversational English Program matched hundreds of volunteers with patrons wanting to practice and perfect their everyday English language skills and the program won the Florida Library Association's Maria Chavaz-Hernandez "Libraries Change People's Lives" Award in 2017.   
In 2019 the program was awarded the American Dream Literacy Initiative grant from the American Library Association.  The grant was a partnership between University of Florida's College of Education: English for Speakers of Other Languages (ESOL)/Bilingual Education Department, Santa Fe College's ESOL Department and the Public Schools of Alachua County ESOL Department. Talk about great partnerships! Just last year, the Conversational English Program merged with the Alachua County Library District's Adult Literacy Program and will now find it's home at the Headquarters Library.
Now that you know a little about our past, we hope that you will continue to join us (or maybe even visit us for the first time) as we move into the future and strive to remain a integral part of the Alachua County Library District and a crucial member of the Southwest Gainesville community.