Image

That's right everybody, we're back and better than ever. In this house we not only say gay, we say it LOUD and we say it PROUD. In our newest installment of Space Gaze, Rin and I are bringing you 9 stellar queer science fiction and fantasy graphic novels. Or as I like to call them, LGBTQIA SCIFI/F GNs. And before you ask, yes, you can legally play that in scrabble.
If you haven't checked out Space Gaze before, take a look at our previous installments here: Space Gaze  —  Space Gaze 2: Electric Boogaloo  —  Space Gaze 3: Failure to Launch  —  Space Gaze 4: Roll Initiative  —  Space Gaze 5: Transcendent  — Space Gaze 6: All You Need is Love  —  Space Gaze 7: March Madness
Image
Adult Graphic Novels
Image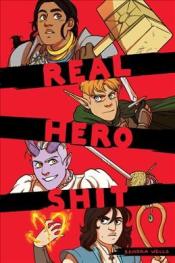 Real Hero Shit by Kendra Wells [2022]
Rin: Brace yourself, y'all, because this time around I've got an excuse to indulge in my favorite Space Gaze activity: getting pretentious about ~art styles~ even though I have no qualifications and no idea what I'm talking about most of the time. And what a book to start with! This definitely has similar vibes as TAZ, and I really hope to see the same level of character development over the span of the (hopefully continuing) story. The art is fun and dynamic, the colors are great, and I love each of the four adventurers with all my heart (though Hocus is undoubtedly my favorite). Definitely worth the read, 5/5 stars.
Rae: Look. If you like the The Adventure Zone graphic novels, you'll like Real Hero Shit. No question about it. It's a super quick, super colorful, super fun intro to what I hope turns into a long running series following the adventures of four complete yahoos as they do some, you guessed it, Real Hero Shit. I just can't get enough of character driven D&D style storylines, so I'm absolutely thrilled that there's a new writer in the game. If you're in the mood for pure hijinks, great characters, and fun art, definitely check this one out. 4.5/5 stars. 
Final: 4.75/5 stars
Image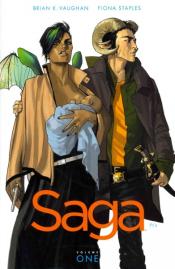 Saga, Volume 1 by Brian Vaughan [2012]
Rae: Let's be real here, if you know graphic novels or comics at all; you know Saga. It's been going strong since 2012 and has turned into one of the world's most popular -according to Goodreads- ongoing comic series. And it's easy to see why. The very first few pages are.... interesting to say the least. And pretty indicative of the tone of the rest of the series. I promise by page 10 you'll either be completely invested (like me) or you'll know for a fact the series isn't for you. It is 0 to 10 in exactly one panel with no intention of slowing down. While Saga does occasionally edge into slightly too gritty territory for me (and I also just don't understand the tv-head alien design. Good for you for swinging for the fences with some truly WILD character choices, but that one might have been a miss), I am all in and will be following this series to the bitter end. 4/5 stars from me
Rin: This one is... weird. You get thrown into the action immediately, and there isn't much background knowledge given of the larger universe to get you started. Despite that, I didn't find it all that confusing to get started on. And it follows just enough characters to keep me interested in the different storylines, but not so many that I'm terribly confused the entire time. And it's weird. I can't understate how weird it is. The art isn't my favorite thing in the world, but it's expressive and not needlessly gory, and also Alanna and Marko always look amazing, so I'm not really complaining. 4/5 stars
Final: 4/5 stars
Image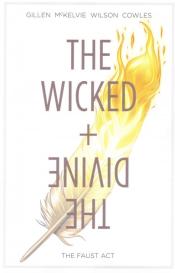 The Wicked + The Divine: The Faust Act by by Kieron Gillen [2014]
Rin: First things first: this one's sort of gross. It's not the goriest graphic novel I've ever read, but it doesn't shy away from the (stylized) viscera either. Just so you know. The art is beautiful, especially the portraits that get paired with some of the chapters, but I don't love when that artistic talent is applied to viscera. Maybe that's just me though. 
Beyond that, it's... just generally a lot. I tore through the first volume in about an hour, and I was hungry for more while also feeling sort of overwhelmed. Which I guess is a good sign, in a book that's the first part of a 9-part series? I really liked that the pantheon of twelve gods wasn't focused purely on Greek gods (which is sort of what I expected to start, since they're specifically called the pantheon), but gods from many different religions. Well, is Lucifer a god? ...Either way, it was interesting, and I hope we get to see more of the gods that we don't see a lot of in today's media in future installments. I have really mixed feelings about this one, but I also already have the rest of the series on hold, so I feel like that sort of speaks for itself? 4/5 stars
Rae: ......I didn't like it. This is a very popular series, well done series that is, without a doubt, someone out there's jam. But it was assuredly not mine. The art is engaging and I'm mildly curious about who Did the Crime, but there simply weren't any characters I liked well enough to feel invested in the story. Everyone was just kinda terrible, and not even in particularly interesting ways. Honestly if we weren't reading this book for SG, I probably would have abandoned it halfway through. So why did we include this series? Because if there's a book that gets four stars from one of us and one star from the other (spoiler), it's probably going to generate just a strong reaction in everyone else as well. So if a twisty, gory mystery with an admittedly pretty cool premise appeals to you, go for it. If, like me, you need at least one character that isn't a hot topic slogan t-shirt come to life, maybe skip this one. 1/5 stars. 
Final: 2.5/5 stars.
Image

YA Graphic Novels
Image
Rae: Oh Nimona. Never has a book gone from 'oh this is a super cute funny art-style' to ripping my heart out of my chest so fast. Stevenson introduces so many elements that at first seem like they're played for laughs (and don't get me wrong there's a whole lot of humor in the book) and then treats them with serious, kind, and deep consideration. There's a reason this book has won a whole gamut of awards, and there's very little I could say about it here that hasn't already been lovingly said by readers a lot smarter and more articulate than I am. Even if you're not traditionally a YA, graphic novel, or fantasy reader, Nimona is worth checking out. 5/5 stars.  
Rin: So I actually first read Nimona for my graphic novels class in library school (yes, I did pay to take a class entirely about graphic novels, and yes, it was amazing). I love ND Stevenson's art style so much, it's simple and yet conveys so much emotion, while not taking itself too seriously. And the characters are amazing (especially with their teeny tiny hands). Nimona was even more enjoyable the second time, especially since I wasn't reading it for class, and I would very happily inhale more of this world (Nimona animated show when? We know you can do it, Nate. But in the meantime, listening to the full cast audiobook while reading the graphic novel is the perfect little snack to tide me over). 4.5/5 stars
Final: 4.75/5 stars.
Note: the author has recently announced that his name is Nate though, professionally, he will go be ND. You can read his full announcement here. 
 
Image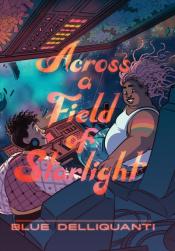 Across a Field of Starlight by Blue Delliquanti [2022]
Rin: This one was absolutely amazing. The art was stunningly beautiful, the world-building was engaging, and it was a breath of fresh air to see so many trans characters in one story. But I think the thing that I loved the most about this book was actually the underlying social commentary, which might be the very first time I've said that. It's so easy, when pushing back against oppressive societal norms, to inadvertently mold yourself into the mirror image of the forces that are marginalizing you and to uphold those same rigid norms within your own community. But there's other ways to live, without being confined by that rigidity! You can build your own communities in a different image! And yes, I did get all that from a YA graphic novel about a space empire and the space resistance that fights it, but it certainly can be applied to the queer communities of today, and it should.
Anyway. The art was fantastic and I love literally every character in this book. Fassen, in particular, holds my whole heart. 5/5 stars
Rae: I'm about to feel like such a downer after Rin's great review because mine is going to be slightly less glowing. Not a whole lot less I promise. Just a little. I liked Across a Field of Starlight a lot, primarily because of the characters (Lu is my favorite though, Rin, we can fight about who's best) and I fully agree that both the art and the message are gorgeous. And they included one of my favorite tropes, sharing food as a gesture of love and belonging. Carbs are the sixth love language, guys. It gets me every time. I think where the book fell just a bit short for me was the pacing and structure. I had a hard time following some of the action sequences and more granular story beats, which tended to take me out of the narrative. When I was in I was IN, but there were definitely some scenes I'd finish and think, 'wait what just happened there?' Overall though a very good book, even if it wasn't my favorite on this list. 4/5 stars.
Final 4.5/5 stars. 
Image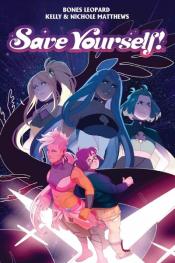 Save Yourself! by Bones Leopard [2022]
Rae: I think I'm just going to have to chalk this one up in the 'not for me' category. The positives first: The art is bright, fun, and very well done, it has great representation, and there was a coherent narrative with a couple of funny bits. Beyond that.... it didn't grab me. The story is pretty quick and surface level, so there was minimal character development or narrative weight. Even the art, while very accomplished, wasn't really to my taste. I think this will be a quick and fun read for plenty of people out there, it's just simply not for me. This feels a bit like trying to judge how well a tomato bisque was made when you don't like tomatoes though, so take this review with a grain of salt. Or pepper. Or whatever you put on tomato bisque. Hot sauce? 2/5 stars.
Rin: Oh man, this is cute. I love the magic girl + alien combo, and the alien character designs were absolutely amazing. The art itself was bright and so colorful, and the style was cute without being overly stylized. The storyline felt a bit shallow and underdeveloped at times, but that's not necessarily a bad thing? Sometimes you need a lighthearted graphic novel about a bunch of aliens fighting each other that doesn't make you think too hard. I'd love to read more of this world, but I'm also very, very satisfied with what we got. 
Overall, a cute, sweet, and very queer story, plus an alien that looks like an axolotl dragon. That's worth 5/5 stars to me. 
Final: 3.5/5 stars
Image

Kids Graphic Novels
Image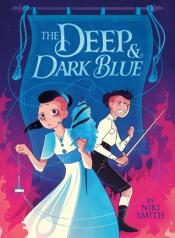 The Deep & Dark Blue by Niki Smith [2020]
Rin: Oh man, I love this world. The idea of spinning magical threads with a drop spindle is so cool, with a whole order devoted to this craft, and I want to dive deep into that aspect of the world building. I also really enjoy stories of twins who have to reckon with the fact that they're growing apart and becoming their own people, but are still twins who share a special connection with one another. Some twins overcome this better than others, and I always like to see how it develops in a story like this one. Add to this the absolutely gorgeous art and deep, vibrant colors, and you've got yourself a winner. 5/5 stars 
Rae: Well this book is just lovely. Everything from the art, to the world-building, to the character arcs are deftly handled and perfectly woven together into a light and charming coming of age story about finding your place in the world. While the plot itself is relatively straightforward and simple, it's held up by the strength of the characters and their deeply felt love for one another. The emotions in this book absolutely shine through, and I wouldn't hesitate to recommend it to graphic novel readers of any age. 4.5/5 stars for me. 
Final: 4.75/5 stars. 
Image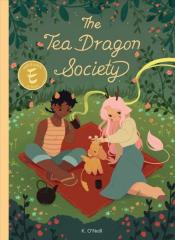 The Tea Dragon Society by Kay O'Neill [2017]
Rae: It's. Just. So. Cute. How to even describe how soft this series is? It's like the color pastel pink became a world. It's like the feeling you get when you hold a cup of something warm when it's chilly out. It's gentle and caring without being saccharine or meaningless and I could happily read 15 more books in this series without ever getting sick of the wonderful world Kay O'Neill has created. I'm pretty sure my blood pressure was literally lower by the end of the first volume, y'all. It's a lovely series about growing up, friendship, and chubby little dragons. What more could you ask for? 5/5 stars. 
Rin: I can't. I can't. Kay O'Neill's art slays me every time. The characters' designs are so streamlined and yet they're so expressive. Something about lineless art really does it for me. The colors are soft and rosy, the world lush and beautiful... If I had to choose one fictional world to live in forever, I think I would pick one of O'Neill's based on the art alone. And the compassion! The Tea Dragon Society is all about compassion and healing and growing with your loved ones to guide you. It's a quiet world, and an inherently queer one, and I love it. 
Plus, y'know, cute little dragons you can cuddle. What's not to love? 5/5 stars
Final: 5/5 stars
Image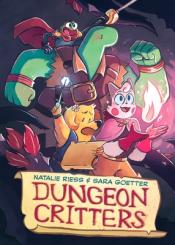 Dungeon Critters by Natalie Riess & Sara Goetter [2020]
Rin: I'm such a sucker for kids graphic novels, and I absolutely love that this one is D&D based. The characters are so cute and the colors are so vibrant. Goro is my favorite; like, who wouldn't love a huge, soft spoken snake (with... arms and legs? We're not going to overthink that one). It warms my heart so much to see stories available for young readers that are unabashedly queer without it being A Big Thing(tm), and I hope that we only see more of them in the future. 4/5 stars
Rae: Yes, it's yet another D&D based graphic novel! I told you I couldn't get enough of these. And Dungeon Critters is an absolutely delightful addition to the group. It's got super cute characters, genuinely funny panels and jokes (even for adult readers), and a wonderful message about friendship and teamwork. This isn't a book that's going to blow anyone's socks off, but it's a truly fun dungeon crawl if you're looking for something easy and light to keep you entertained. 4/5 stars. Would recommend. 
P.S. Fully thought Goro was a turtle though most of the book.
Final: 4/5 stars
Thanks for checking out our most recent installment of Space Gaze! Keep an eye on ACLD's blog page for more updates.