Regular Hours
| Day | Hours |
| --- | --- |
| Monday | 10 a.m. - 6 p.m. |
| Tuesday | 10 a.m. - 6 p.m. |
| Wednesday | 10 a.m. - 6 p.m. |
| Thursday | 10 a.m. - 6 p.m. |
| Friday | 10 a.m. - 6 p.m. |
| Saturday | 10 a.m. - 5 p.m. |
| Sunday | 12 - 5 p.m. |
Amenities
Image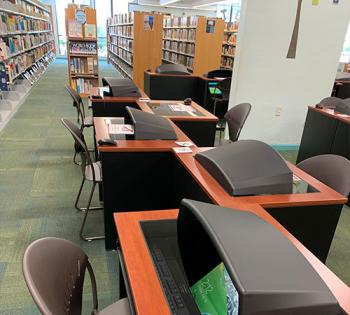 Wi-Fi
Learn more about the Hawthorne Branch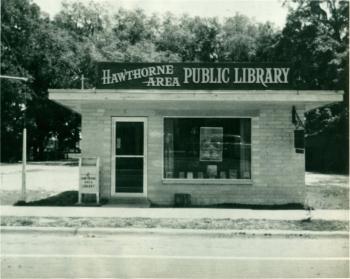 When it comes to local library services, Hawthorne residents played a big part in getting things started. Along with our High Springs and Micanopy branches, the Hawthorne Branch became a part of the Santa Fe Regional Library system, which was set up in 1959. Mary Moore, one of Hawthorne's first and influential librarians, was instrumental in bringing library services to Hawthorne with the establishment of the SFRLS as well as a stand-alone library building in downtown Hawthorne. Building on the SFRLS, Sid Martin (1919-1996), a local political dynamo who was born and raised in Hawthorne, first proposed the Alachua County Library District. The Alachua County Library District was established by the Florida State Legislature and approved by county residents in 1986.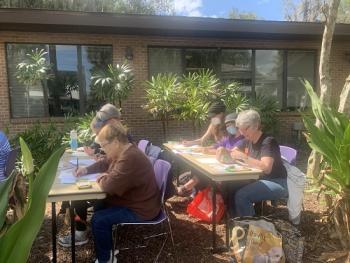 Since these auspicious beginnings, the Hawthorne branch continues to be an integral part of the local community. One prominent example is the annual Hawthorne Library Art Show, started by Mary Moore. Local artists showcase their work in the library throughout the month of April, and at the end of April, there is an artists' reception, complete with a demo by a local artist. April 2022 marks the 54th year of the art show, and while we did not have the reception this year due to COVID-19 restrictions, there is plenty of local artwork on the walls for all to see!
Other highlights include our plethora of children's programming - check out our story times on Thursday mornings for a real treat - as well as our arts and crafts programs for our adult patrons. We also have a book club out here for those so inclined. We're also famous for our outreach to the community, from our local schools (Shell Elementary and Hawthorne Middle-High School), preschools like Pumpkin Patch and Hawthorne Academy, the Hawthorne Area Resource Center, and Little Orange Creek Nature Park, just to name a few.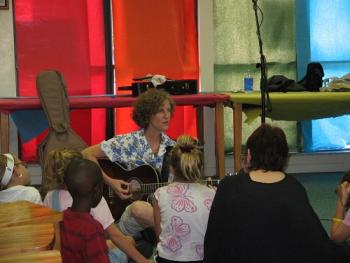 Doing outreach is not all work - we have some fun too! We've been at the Hawthorne Fall Festival, decked out in Halloween costumes and playing library-themed games. We've been a part of the Hawthorne annual Christmas parade in the past, with Santa making his final stop at the library for some family photo opportunities! The African-American Read-In, where folks can learn more about African-American culture from community members and historians, is a big hit in late February. Other noteworthy outreach events include Hawthorne's annual homecoming festivities in June and Island Grove's Blueberry Festival in May.
Now that you know more about us, what we would like to see is... you! Please come visit and you will see why we think our library is so special! 
Hawthorne Fun Fact: The town's original name was 'Hawthorn' but became 'Hawthorne' in 1950 due to a misspelling on the town's railroad station sign!